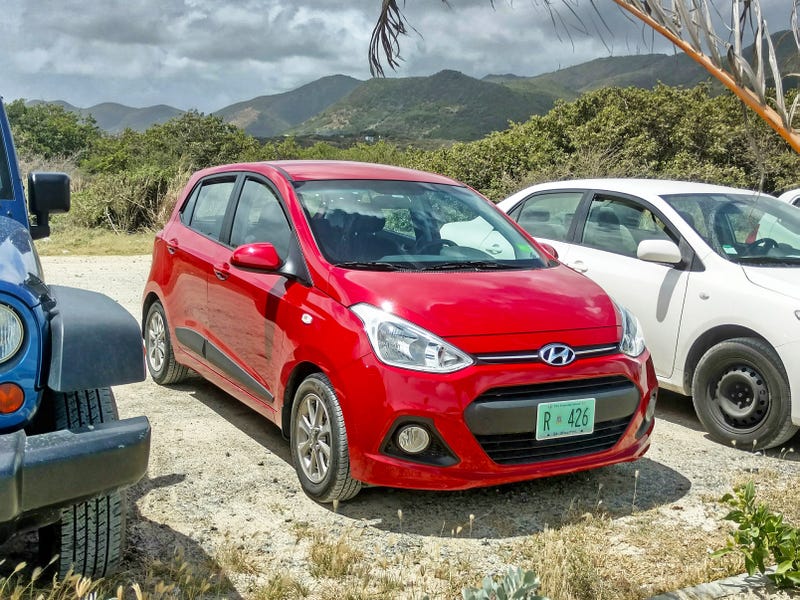 My "Kia Picanto or similar" rental for my honeymoon to St. Martin turned out to be a Hyundai Grand i10, even though the Kia Picanto is overwhelmingly the most common car on the island. Hyundai & Kia are the most popular brands, and the Grand i10 is a stretched Picanto. Here's a big photodump!
For whatever reason, when I booked my car, the Kia Picanto was listed as $160 + tax vs. $200 + tax for the Hyundai Grand i10. The Grand i10 has a 1.6" longer wheelbase and is 6.7" longer than the Picanto. Such roominess!
At 148.2" long, the Grand i10 is still shorter than basically everything sold in the US, except the Chevy Spark (143.1"), Fiat 500 (144.4"), and Smart ForTwo (106.1").
I picked the Picanto because for the amount of driving I was doing, I figured the extra 40 bucks for the slightly bigger Grand i10 could be better spent on many other wonderful honeymoon things. I got the Grand i10 anyway though. Score?

When we landed in St. Martin, I stopped at the Budget counter in the terminal, did my paperwork, and spent a whole bunch of time waiting for what turned out to be a very short shuttle ride to the rental lot in a SsangYong Rodius.
The Rodius is an oddly proportioned CUV that bugs the crap out of my OCD because it has a chrome strip along the bottom of the side windows, except not on the quarter window directly behind the back doors. That's just black rubber. The chrome just dies right there!
At least the scenery while waiting for the shuttle was ok.
This was one of several SsangYongs I saw at the Budget/Avis lot but they must not have been going to the French side of the island, because they were the only SsangYongs I saw on the trip.

At the Budget/Avis lot, there were loads of people milling about with no real communication from the Budget/Avis employees, or even a sense of who was what place in line. Eventually a Budget guy took my paperwork, yelled a bunch asking where's car #426, including down to the people working in the parking deck below us, then realized car #426 was in fact the bright red Hyundai Grand i10 directly in front of him. He told me to take it, but said several times to check the back to make sure it had a spare tire.
Everyone else waiting for their car laughed at this scene, so when I confirmed a spare tire was in fact present, I said "don't worry everyone, it's got a spare tire." Then a lady in the crowd hit on me saying if there's no jack I'm probably strong enough to pick the car up myself. My wife took this in stride like, "yes he can!" As a former fat kid all of this flattery is still a bit odd for me, but ok.
Then we loaded our stuff into the Grand i10. Our one big suitcase mostly fit in the back but the luggage cover popped up over it. The rest of our stuff went on the back seat. The Grand i10 has your usual modern car equipment: power windows, mirrors & locks, a/c, bluetooth, USB & aux jacks, steering wheel volume controls, and even a fuel mileage gauge. It has an interior that exists and is in fact a car.
On some of the extremely narrow roads around the island, and navigating into the very tight quarters of the garage under our Airbnb apartment, I appreciated just how tiny the Grand i10 is. Someone in the building had a VW Passat wagon and I was genuinely puzzled how they managed to get it into this garage.
In Grand Case, the town where we stayed, there are no sidewalks, and everybody walks along the main boulevard to the restaurants, shops & beach. It's easy enough to get out of the way of stuff like the Picanto and i10. But when something you're used to seeing around America comes by, like say a Ford Explorer, you might have to squeeze up along side a building or duck in between parked cars to let it by.
Driving up some of the steeper hills on St. Martin, the mighty 87 hp 1.2 liter motor of the Grand i10 struggled. It does have a slap-shift feature on its transmission so I was able to kick it down a gear which sort of helped, but not much. Even with that, going up the particularly steep hill on the way to Anse Marcel beach, I had a Toyota RAV4 from a skydiving academy aggressively tailgating me the whole way.
But other than that, it was a fine enough car for the limited amount of driving we did, and it was cheap.
As for the cars of St. Martin, it's overwhelmingly Hyundai/Kia. Renault is the next-most popular, with some Peugeots. I only saw one Citroen but it was a DS4 so not actually branded Citroen. Ford was the most popular American brand. There were some Korean Chevys like the Sonic.
Of the Japanese brands, Nissan was the most popular. Probably because of the Renault connection. I actually saw a good number of Jukes, probably because French people are already used to weird looking cars like it. Toyota was next most popular, a mix of almost US-spec (but different trim level) Corollas and stuff you don't see in the US. Mitsubishi, Suzuki and Daihatsu outnumbered Honda.
The overall sense I had was that the Japanese brands used to be more popular but that faded away maybe 10+ years ago for the Koreans.
Trucks were mostly international-market models like Toyota Hiluxes, Mitsubishi L200s, and Nissan Navaras. The cops drove Mazda BT-50s. I did see one F-150 and Silverado. Trucky SUVs were lots of Jeeps, and some Land Cruisers and Pajeros. The Suzuki Jimny & Vitara, along with Daihatsu Terios, are decently represented. The taxis are mostly Japanese vans like the Toyota Hi-Ace.
Of the premium cars, BMW and Mini were most common. I saw an occasional Mercedes.
But Hyundais & Kias are the overwhelming majority. Even the most of the tour busses are made by Hyundai. There are Kia Picantos everywhere.
People on scooters generally disobey all traffic laws. They kamikaze pass cars on narrow 2-lane roads and cause all sorts of hell. If you see a scooter in your rearview, expect that they will do something stupid.
I took a bunch of pictures of cars, but didn't really bother with the Picantos, because they just sort of blend into the scenery. A few of them made it in here anyway. Here's a whole grip of pictures!
Bonus round time! Here's the view from my Airbnb (yes I took this photo):
And some but not all of the delicious food we stuffed ourselves with!
Extra extra bonus round time! There was a family of stray cats living in the bushes around the parking lot at Anse Marcel beach, that took to us immediately. We went for a hike in there and didn't have much food to give them beyond a granola bar (and grain's not very good for cats) but the next day we went back to Anse Marcel and gave them a bunch of cream. We had an entire quart of heavy cream because that was the only American-style coffee creamer option at the supermarket, and there was no way we were going to use it all.
Oh, and this rooster was there too.
It was a good honeymoon!