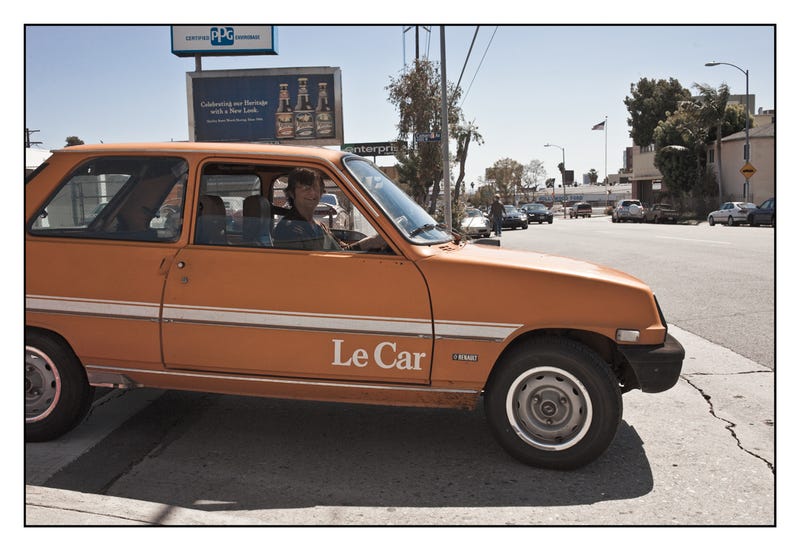 (This was going to be a quick, resto update, but then I went on an emotional journey. One I think a lot of you can relate to.)
I drove this amazing orange Le Car for years as my DD here in L.A. and, like an idiot, I sold it 2 years ago when someone made me an offer I should have refused. It sunk me into a deep state of melancholy. At the moment, it seemed like a good decision. I had just bought a new Ford Fiesta and my Fuldamobil project had been static for a while, so some cash and space was welcome.
Did I really need another old car? I got the Fiesta to make my and the Renault's lives easier. The Le Car ran fine and I had made it as reliable as a 36 year old Renault could be. But, it didn't have a/c and it certainly didn't love the wear and tear L.A. streets inflict on a car. It deserved to take on a lighter load. Plus, my parents visit from time to time and this way they wouldn't have to rent a car because they sure as hell aren't going to squeeze in that "tiny piece of crap." So, it would be a sometime fun car. Then, as things go, you get complacent and it's hot out today and I'd like to listen to my music, not static-y Jack FM and, hey, you're an adult now, drive a normal car, you loon. And then one day a guy offers to hand you cash and you say yes. Turn in your Jalop card, Jonee, you're one of those other guys now. But, as soon as that little French orange car butt drove away, I knew I had made a horrible mistake.
I wasn't crazy before when I was driving a fucking Renault Le Car every day; I was being crazy now! A fog suddenly lifted. What have I done? Somewhere, somehow, I had completely lost my mind and gone against every instinct God had rightly instilled in me. I've owned a rotating stable of crappy old cars for around 20 years now. From Subaru 360's, to AMC Pacers and Gremlins, to kei cars I imported myself. Even a Citroën Ami6. I adore oddball cars that went under-appreciated and have made it my mission to keep them on the road so that folks can see they weren't all that bad. I'm a self-taught amateur mechanic with zero natural skill and if I can keep them running, their designers must have done something right. I got a lot of "I can't believe one of those is still running" comments in the Le Car. But, it also got a smile from every person who saw it. And everyone always knew it was me. The opposite of a white Camry. It had become part of my identity. Another limb even. It's no wonder I felt depressed when I amputated it for no reason. My philosophy has always been since I can't own every car I love at the same time, I can own them one at a time. I'd find them, fix them, drive them, and sell them. I've had a little over 50 by now, and I usually regret selling them for a minute, but then something else catches my attention and the previous one is forgotten. I'm a serial auto monogamist. Well, bigamist, really, because I usually have 2 and was even up to 6 at one point, but you get the idea. Basically like any other young male asshole, but with cars, not ladies. I've never been rich, but I am single and I've always felt that I could eat spaghetti for a week if it meant getting those tie-rod ends I need from Italy because they're probably the last NOS pair on the planet. I know I'm not the only one around here that's done that. Anyway, I guess I'm getting old and am ready to settle down finally, because that Le Car was different. I was in love.
It wasn't my first Le Car. I had a beautiful very low mile one when I first moved to L.A. It was as close to new as you find them. Bright red vinyl seats. The body was almost flawless. A real knockout. And, we had a lot of fun together. We were both young and frisky. Even an afternoon fighting over her water pump couldn't dampen the passion. But, fires that burn brightest and all that and soon she was on eBay. She was a 10 and I'm a pasta-eater, so she found a high rolling collector in Northern California and I made a couple grand and moved on to a beat-up Gremlin with fat tires and the words "Skinny Thunder" emblazoned on the door. Everyone was happy. Funny enough, I was driving that Le Car one day when I passed by another one looking forlorn in a parking lot. It was faded orange and had an aftermarket pop-up sunroof. "Cute," I thought. I stopped and looked it over. Its seats were tattered and it was dusty and dry from sitting for a long time. It did have a For Sale sign. "Hmm," I thought. "Parts car?" A price was scribbled on the bottom of the sign. $4,000. Are they fucking nuts? For a non-running Le Car? I had just bought the practically new one for $900, screw this car. And off I went. Fast-forward a few years. The Gremlin is a distant memory. I had just sold another amazing find, a mint '79 Pacer with 29,000 miles and delicious chocolate brown paint.
It was a masterpiece until my neighbor backed into it. I managed to find a new fender and a good shop matched the paint perfectly, but it was like my girlfriend had cheated on me, and it was about time for something new anyway. So, I'm cruising around Burbank one day when something catches my eye. A little orange car over there. Could it be? I turned around and yes, it was. That same orange Le Car with the pop-up sunroof. Still with a for sale sign, but now at a repair shop 40 miles from where I had last seen it. Old memories of soft French suspension and flooring it and praying when merging onto the freeway came flooding back. I could see myself in a Le Car again. I went in to ask what the deal was. Turns out someone had bought it (did they really pay 4K?) and taken it to this place to get it running and then never came back. The seats were still a mess and the electrical system had clearly been monkeyed with, but it did run and drive. What the hell. The guy just wanted it gone, so I went straight to the bank and had myself a new Renault. The next day I picked it up and of course we didn't make it home. The brakes kept getting softer and softer and the motor kept sputtering. Clearly this car was a mess. Finally it gave up and was soon on a flatbed. Needless to say, I spilled blood over that car during the next few months. It needed everything and I was determined to do it all myself. I learned every inch of it and cursed those French bastards more than the British do. Why do I have to lift the whole fucking engine to change the goddam starter? Why is there another muffler in the wheel well? To what god do I have to sacrifice my firstborn so the thing will pass emissions? But, you know the story, all that time, sweat, infantile sobbing, and, of course, money really got me attached to it. So much so, that I took her for granted. Like that dumb song, I didn't realize what I had until it wasn't mine any more. I bought the best foam and redid the seats myself. Man, they were comfortable, believe it or not. I knew every noise and smell it made and it was all beautiful music and roses to me. I knew everything worked because I had personally made sure it did. And I loved every second I was in it. I knew how to trick it into being peppy. I dug the way it leaned into corners like only it could. I loved that it could (almost) swallow a randomly bought rocking chair much to the astonishment of everyone in the Goodwill parking lot. "Wow, how'd you get that in there?" And then I threw it all away for another pretty young thing like I was having a midlife crisis, or something.
Well, the joke was one me because the Fiesta turned out to be a lemon. Like, for real. No matter how many switches they changed, it would stall at random times when I'd press the clutch. That's not when it should stall in my experience. And why does a clutch need switches anyway? The switches in the Le Car turned on the lights, the wipers, the fan. That's the kind of stuff that uses switches. Clutches have pressure plates and shit like that. So, to make a long story short, they bought back the Fiesta and I got a nice, lightly used Ford Ranger. Standard cab and transmission, so my parents are back to renting a car when they're in town. But, I can tow a trailer to put the Fuldamobil on and I can fit a bunch of car parts in the bed. It's no Le Car, though. I would still find a lump in my throat when I'd see the parking spot the Renault used to occupy. I had dreams I was back driving it. Girls dumping me hadn't made me feel this heartsick. I contacted the new owner, but he wasn't interested in selling. A Renault 5 had been his first car back in Armenia and he was going to restore this one with his kids. I got it. "Take good care of her." For some reason, though, my spirits started to rise. It was in a good home and now I get to find another one. The hunt is on. It had actually been a while since I'd searched hard for a specific old car. I still surfed Craigslist and the other places like we do, but hadn't really been looking. I didn't have the same time and energy to do the flipping thing in a while. Now that old thrill was coming back. I was on a mission again. Le Cars were considered disposable shitcans, so they're pretty few and far between these days. I knew I was going to have to try to be patient. But, fairly quickly I found an overpriced '83 not too far from me. I like the earlier, small bumper-round headlight ones better and I wanted to find one with the proper, big sunroof, so, with a deep breath, I passed. But, the experience got the blood flowing. A month later, I was a day late for a nice yellow one that was a little out of my price range. This got me panicking. Were people besides me starting to covet Le Cars? And, they were paying good money? I wasn't expecting to give much more than a thousand bucks and for that it should be complete and running. If it needs a paint job and interior, fine, but I didn't want too much of a project. I wanted something I could drive right away. Like a drug, I needed that Renault Le Car feeling back in my life. The old emotions and sensory memories once again came to life. The weeks dragged on with nary a listing to be found. So, when I finally saw the Craigslist headline "Classic Le Car 5 GTL" my heart jumped. It was exactly what I said I wouldn't buy. A car that had been sitting for 10 years. But, it looked ok in the pictures.
It was a "Black Beauty," too. Black Beauties were a limited edition trim package with a sport steering wheel and special red pinstriping.
They also had this funny plaque on the dash, so I figure if there's one American Le Car that might be special, it's one of these. And, it had the big sunroof and nice, butterfly wheels and God I wanted one, so I talked him down to almost half his price and bought it. Sight unseen. It was in Oregon where it had been parked in an open garage. But, it looked ok in the pictures, right? I know someone who does car transport up and down the coast, so I got it delivered really cheap. A week later, it arrived.
And it sure looked like a car that had been sitting partially protected in Oregon for a decade. My heart sank. What had I gotten myself into? It was battered and dented. It smelled moldy. The ignition was missing. The taillight lenses were cracked. The interior was a disaster and parts that shouldn't be had been painted red with what appeared to be like nail polish.
One tire was flat. There was surface rust. Worst of all, the engine appeared to be stuck. That was not how it was described. "Motor turns," I was told. Uh oh. Oh, and the damn dash plaque was missing!
I was not going to be driving this car any time soon, if ever. To most people, this was barely a parts car. Ugggghh. As I looked closer, however, I saw the potential. The floors were solid. None of the little rust spots were terminal. It was complete for the most part. Even the glue on the rear window hinges was holding and that stuff usually stopped working on the dealership floor. At the very least, the wheels were worth what I paid, so I told myself not to sweat it. Sell the wheels, pick off every usable part and scrap it if need be.
That was a year ago. Yesterday, it passed smog and is now street worthy and legal. It still looks the same, but it goes, stops, shifts nicely through the gears, and sways to and fro just like I remember. After soaking for a week, the engine freed up and has good compression now. The speedo actually still works and it only shows 60,000 miles which I think is true. It still has the original rubber pads on the pedals which would be long gone after driving it 160,000.
I took the engine out, replaced the starter, motor mounts, transmission mount, pretty much all the hoses, the alternator, remade an EGR tube, rebuilt the carb, the brakes, parts of the shift linkage, distributor; had the gas tank cleaned and resealed, a new resonator made, and spent more time and money on a fucking Renault Le Car than anyone should. And, I'm far from done. I'm going to teach myself body work and the suspension needs help, but I'm falling in love again. Yesterday's first official drive sealed the deal. I was nervous. I had taken it up and down the street, but we hadn't been around other cars, yet together. It fired right up like it's done every time since I redid the carb. A few engine revs and I was smiling. She sounded eager.
I folded the ratty, translucent sunroof back and took off, wind in my face, exhaust and moldy carpet filling the nostrils. As soon we turned into traffic we got our first thumbs up. I had my third arm back. It may need some additional plastic surgery, but I am whole again finally. A card carrying, jalopy driving Jalop once more.