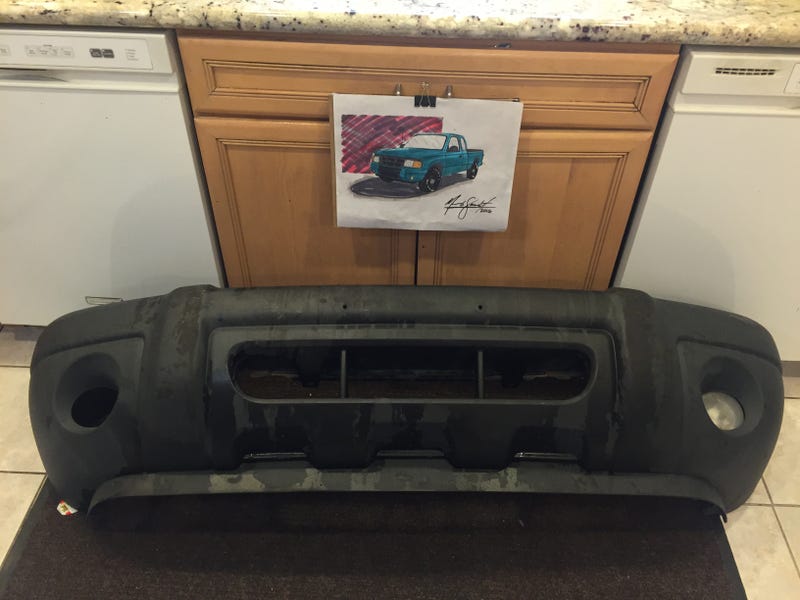 I got the Bumper! I ended up finding 2 Explorers. One with a nice replacement bumper cover and a bent/cracked bumper structure (bad front end collision repair) and one with a pretty beat up bumper cover but a solid structure. So the Girlfriend and I combined them. It needs new foglights though. So I found these on Amazon. The bumper cost me $85.
The Girlfriend had a lot of fun too. When I was under the second Explorer, I caught her taking apart a Mondeo next to me. She got a Suzuki Sidekick logo the last time we went to the yard. She wants to make a wall hanging out of it.
And She Got it off!
After the junkyard we went to test drive a 1996 2-door Toyota Rav 4 with a manual trans. Its a hard top with the dual sunroofs. It was in really amazing shape for 214k mileage, she wants to buy it but needs to amass the funds. After that I took her to an empty parking lot and had her drive my truck a bit. She's not that bad at stick driving! I may just make a Jalop out of her.
We're gonna make the Bumper a couple's project.
Here's what we're gonna do:
Bondo the whole thing for a smooth surface
Prime it
Paint match it
Modify the Inner structure to not hit the fascia on my Ranger (I knew this needed to be done going in)
Drill out the Ranger Bumper mounts to fit the Explorer mounting screws
Wire up the foglights
Its gonna be a lot of fun