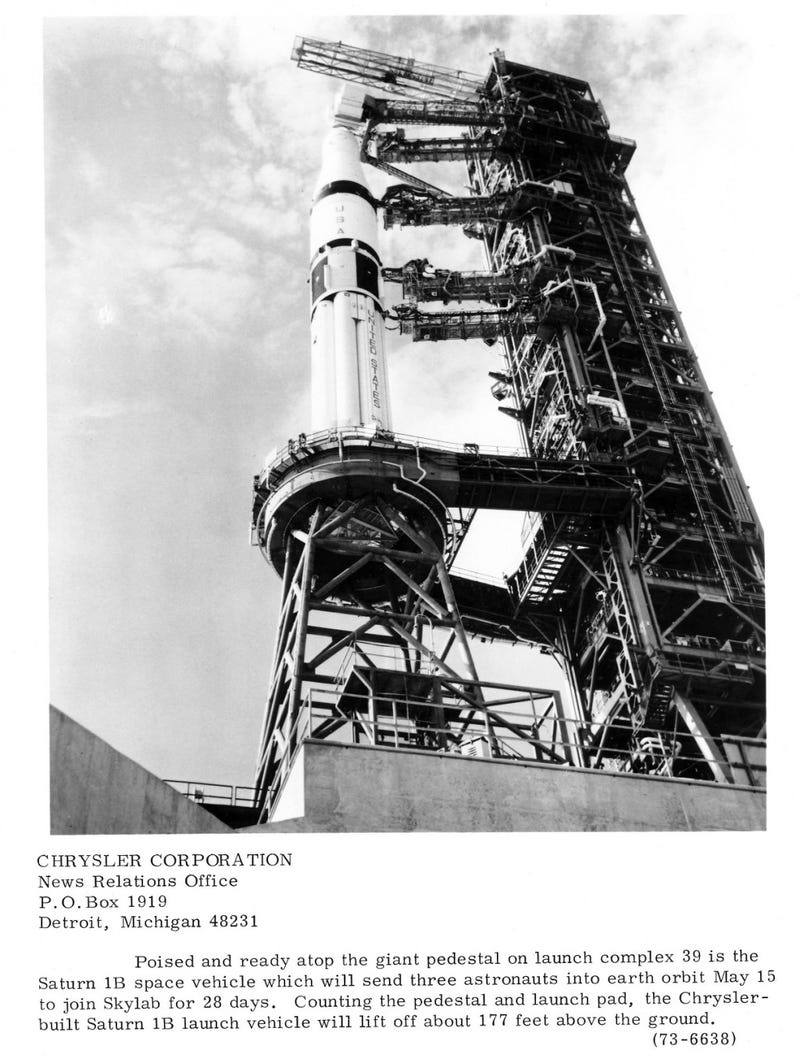 The Saturn-IB was smaller brother to the mighty Saturn V. The first stage was assembled at Chrysler's Michoud facility near New Orleans from 8 Redstone rocket fuel tanks, a Jupiter rocket liquid oxygen tank and 8 Rocketdyne H-1 engines putting out a combined 1.6 million pounds of thrust. The IB first stage, along with the Douglas built S-IVB second stage, could put 53,000 lbs into Earth orbit.
Image: heroicrelics.org
The IB was critical in early testing of the Apollo Command and Service Module and the Lunar Module. While the moon shots were being made with the Saturn V, the IBs waited and were put into service later sending astronauts to Skylab and taking part in the Apollo-Soyuz test project.
Image: NASA.gov
This image compares the size of the IB and the V used to launch Skylab. To utilize the same launch complex as the V, the IB had to sit on a large pedestal.
Image: NASA.gov
The Skylab space station, made from a modified Saturn-IVB stage, was launched in 1973 and was manned by three crews. Unfortunately, the end of the Apollo Program left it untended and the delays in the Space Shuttle Program meant that it was left to reenter the atmosphere in 1979.
Image: NASA.gov
Image: NASA.gov
If you are looking for some interesting reading about Apollo and what might have been take a look at David Portree's work over at wired.com.