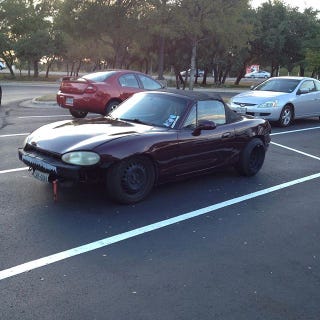 So as some of you may know I'm taking this 99 NB miata and turning it around into a daily driver / autocrosser / canyon carver. So far I've tackled the brakes, Spark plugs, Air Filter and now as of last night KYB Adjustables with Eibach springs and Fat Cat Bump Stops.
Now here is where it gets interesting. Obviously the new/used KYB set up is gold compared to the blown coilover and failing springs but !! They are real coil overs that came out of the car with no marking or brand or model number. I thought this was pretty odd so I'll be looking into them more. Maybe they're early Raceland coil overs I'm not sure.
As far as the new set up it eliminated all failing suspension rattle. Mildly un "stanced" the car and rides like a cadillac - ish with them set on 1 . Very happy so far and I'm sure they'll settle a little bit lower than they are sitting now.
Next order of business will be some light weight wheels and sticky tires. I found what I think is a SCREAMING DEAL on some 14x6 JDM SSR MKII-R's which I'll probably wrap with some type of sticky tire I have yet to decide on.
Any how I'm making some very solid progress and being rewarded for it the entire way.