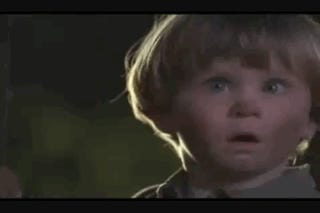 Yep, I liked it. (No picture because I was afraid of freezing to death while my potato booted up.) From a distance it looks big, much bigger than it really is, because the front grille automatically makes you think CTS, which means you're thinking "big old Caddilac". Up close, it's handsome and well proportioned. The strange headlights, which stretch backwards along the top of the front fenders, look pretty nice in person. The interior looks comfy and well-appointed, although I dunno if a 6' tall person would be comfortable back there.
In any case, it's a heck of a lot nicer to look at than that damned 4-series coupe... Every time I see it, I like it less.
Also, anyone remember which movie/tv show the gif comes from? It's bugging me because I remember this kid from when I was younger, but have no idea from where... Much appreciated!