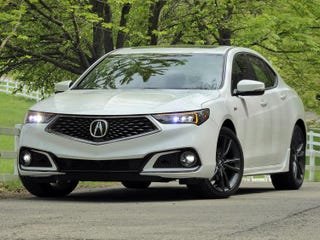 Had to Google-fu it since I had no idea what it was as it was creeping behind me. It was a new Acura TLX A-spec.

It looked better, with the nicer wheels, exhaust tips, and so on.
Still not 100% certain what the A-spec is, but it apparently involves the above mentioned appearance package, bolstered sporty seats, and a 290-HP V6 with a 9-speed auto.
They start at 45 grand for a base A-spec. I don't know if that's good or bad, because new car prices are nuts anyway. However, a 340i starts just under 47 grand. Maybe it's meant to compete against a GS F-sport, which starts at well over 50 grand?
Anyway. I wish them luck.