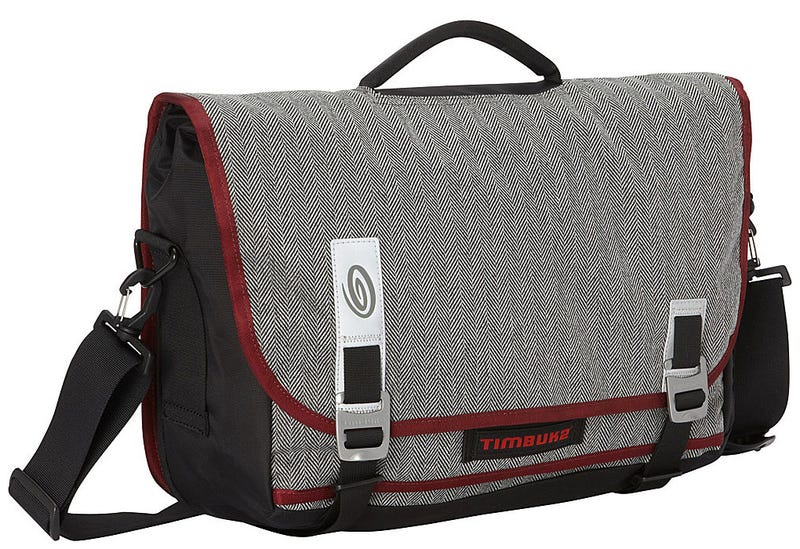 My new job involves going to lots of places other than my office, where I may need to bring my laptop. Also I can work from home when I feel like it. Which means I need a laptop bag, except I refuse to be yet another working stiff with a generic black nylon laptop bag. Now I won't be.
I already have a really nice Dakine backpack that's great at carrying way too much techie shit (it's this bag but a slightly different pattern):
I like it because it has all of the organization and weight supporting features you would want for lugging around a bunch of techie shit, while also not looking like I should be a 47 year old Midwestern IT manager at a random insurance company, who genuinely enjoys doing yard work while wearing the khakis that are too worn out for the office anymore, and Nike Air Monarchs. Because I'm not.

But...a backpack is not the most "professional" type of bag to show up with at meetings, especially since a large portion of my meetings will be with 47 year-old Midwestern IT managers at random insurance companies, who probably own some Nike Air Monarchs. Which means I need something that sorta resembles a briefcase.
So I did some looking around, and this apparently-discontinued older model Timbuk2 laptop bag with all the trick organizing pockets and TSA-friendly flippy-out laptop section was on "FINAL SALE" for $50 after a $10 coupon, instead of the usual $100+ that a Timbuk2 bag would cost.
Only thing is, the product page said Only 1 left of this color, so I jumped on it, because I dig the herringbone cloth with red trim look, and 50 bucks is a good price on a Timbuk2 bag, but now that I've placed my order, presumably for the last bag eBags.com had in stock, the product page still says Only 1 left of this color. Was eBags.com lying to me about only having one left to make me buy it?
Ah, who cares? I like my new bag!