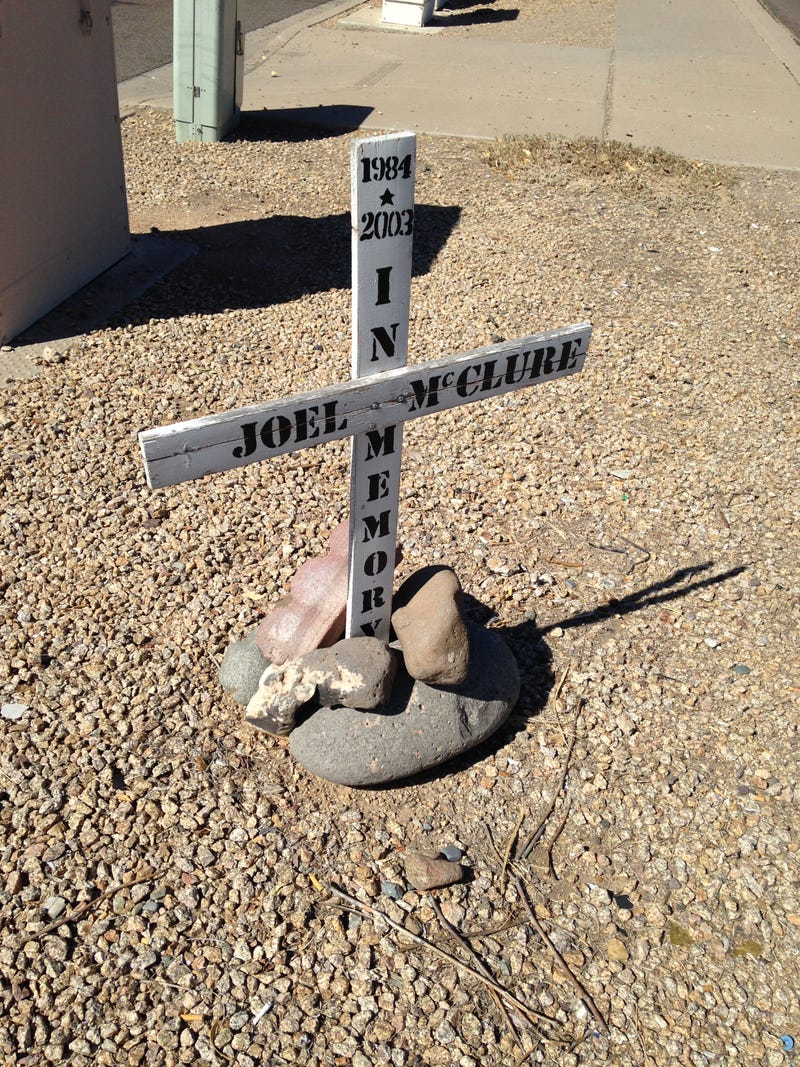 When I was sixteen a baseball teammate of mine was murdered while attending a birthday party. The murder occurred on the morning of April 20th, 2003. It was Easter Sunday. As people were leaving the party, a stranger pulled up and fired into the crowd of party-goers. Along with my friend, three other people were shot that night. One girl was shot through the abdomen, another through the leg, and a third person was shot through the top of their torso. People immediately began to administer first aid to their friends, all of whom survived, except for Joel. Realizing he needed immediate medical attention, his friends placed him in a car and rushed him to the nearest hospital, but it was too late.

I first heard of Joel's murder on that night's news. I walked into my living room to see his familiar face on the television screen. As I tried to make sense of why someone I knew was on the news, I began to hear what the newscasters were talking about. "Thunderbird High School student killed..." is the only thing I remember hearing. The blood ran from my face as I tried in vain to make sense of what was going on. There was no way I could make any sense out of what I was hearing. This was a totally senseless act. The first thing that flashed into my mind was Joel's old beetle. It had a custom exhaust, and could be heard from a mile away. I remember making out in a parking lot once, only to be interrupted by his loud, buzzing exhaust. I looked up to see him parked at the far end of the parking lot. "Haha, I know that guy," I said to my backseat buddy, before proceeding.
Who knew a school of 2,000 kids could fall so silent. The Monday after Joel's death is one of the most solemn days I have ever experienced. No one said anything all day. The only sounds that could be heard before the morning bell were the quiet cries of Joel's close friends.
Joel's funeral is the only time I had ever cried in front of my school friends. Watching the pain on his parents' faces as they stared at their dead child was absolutely heartbreaking. As a parent now myself, I cannot to begin to image the pain they have had to endure. The eulogy given by his sister is the most painful thing I have ever witnessed. Struggling to memorialize her older brother, she completely broke down in tears. She was inconsolable. The church was filled to brim with mourners. We all held each other as we tried to make sense of what was happening. There was no making sense of it. It was senseless.
Despite this all having happened over fourteen years ago, I find myself completely breaking down as I write this. I wasn't particularly close with Joel, but his murder touched me very deeply. His family moved two houses down from me a year after his death, and I always remember seeing the look of pain in his sister's eyes whenever I passed her. I remember her passing out ribbons on the first anniversary of his killing, and seeing a bit of relief on her face that people were taking some time to remember her big brother. Yes, people eventually find a way to cope with their grief and continue living their lives, but we never really move on. Traumatic events like this, the loss of loved ones in such sudden and senseless way, leaves a giant hole in our spirits. I know the murder of Joel left a hole in my spirit, and it pains me to think of the damage it has done to his close family and friends.
I broke down in tears driving today as I realized I had just passed Joel's memorial. It's been a constant reminder to me over these last fourteen years to cherish every moment of life that I'm gifted with, to treat the people and the world around me with love and respect, and to make sure the people closest to me feel the love that I have for them. I know I don't always do these things, and welcome the reminder, no matter how painful. The events of this past weekend gave me another one of those reminders. I am so thankful that I get to spend time with family and friends that I love, and hope that they all feel the love I have for them. I hope desperately that all those affected by violence will be able to fill the hole in their spirit left by the loss of their loved ones, and that all of us will take a bit of time out of our day to appreciate the beauty and love that surrounds us. There's a lot of hate in this world, but there is even more love, and love feels a whole lot better than hate.