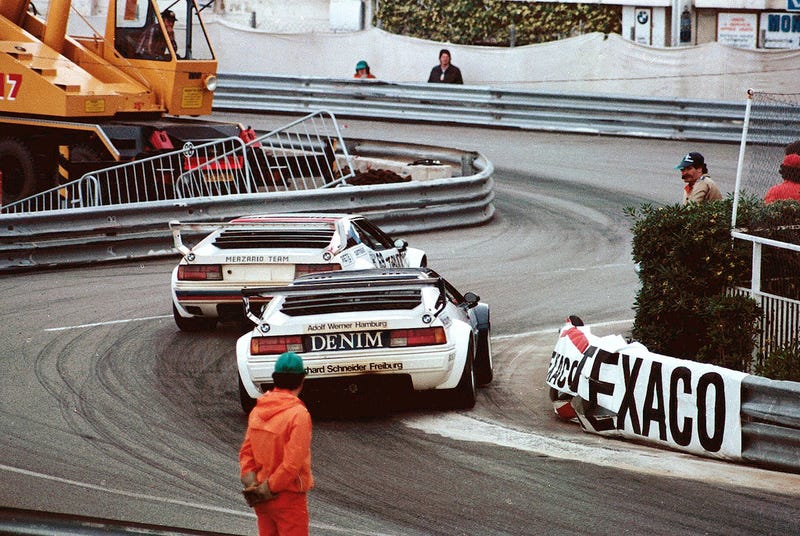 It's Monday again!  That means I've reset my weekly how-long-until-5pm-Friday-god-dammit-I-don't-care-about-your-kids-at-all-co-worker clock, and I'm on my second cup of coffee.  Have some fine car-type pictures from around the web, and don't forget to bill your time to overhead.  Enjoy.
1954 Maserati 250F.  I do not think there will ever be a picture a 250F that I won't longingly stare at.
Marcos LM600.  Of note, there was only one factory-built LM600 road car, so I'll take a wild guess and assume this isn't it.
1978 Chevrolet Camaro Trans Am.  Dat ass.
1971 Citroën SM Breadvan, a short wheelbase racing variant on the SM.
A Le Mans prototype car with the engine in front of the driver?  Sounds like the Panoz LMP07 (or really all of the Panoz LMPs).  Claimed as the successor to the LMP-1 Roadster, the LMP07 was turrible and quickly abandoned by Panoz and sold to other private teams, who apparently didn't like them all that much either - all three that were constructed were retired from competition by 2003 after just a three year career.
The 1933 Napier-Railton.  This car still holds the lap record at Brooklands race track (the track closed after the war, so it's the fastest car ever!).  The engine is a Napier-Railton W12 aero-engine (not like your sissy VW engines, this W is 3 banks of 4 cylinders each, arranged in sort-of a trident shape) that made 500hp at 2,200rpm.  With only rear brakes and a 65 gallon fuel tank the more adventurous type could make this car do 168mph.  It can regularly be seen at the Goodwood Revival.