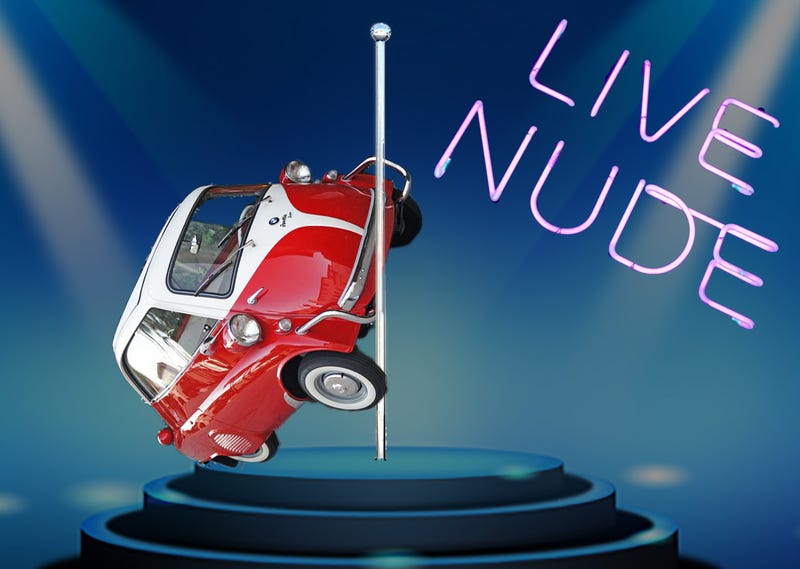 The following article contains graphic images of a 1957 BMW Isetta in the buff and is not for the faint of heart. But if you're into this sort of thing then send the kids to the other room and draw the curtains because it's about to get weird.
Last week a truck pulling a large trailer pulled into the drive of the shop I work at and backed up to one of our large overhead doors. It is always exciting when we get a drop off because it means a new and potentially exciting car to play with. I set down whatever project I was working on to lend a hand unloading the new mystery car. The back of the trailer opened up and I wasn't quite ready for what I saw...
It was the bare, unashamed chassis of our pet Isetta. The chassis is freshly restored by an Isetta specialist. Then it was brought to us to be reunited with the body. I work at a shop that does all sorts of restoration and customization work. Every once in awhile I see something that is truly unique and unlike anything I've seen before.
This pedal box and steering box combination for example has a big worm gear inside it to actuate that steering arm on the left.
Notice the adorable little steering damper in the lower right of the photo above. The Isetta slows its roll with tiny hydraulic drum brakes which are tucked in the wheel on the other side of that shock/spring tower. There is one on each front corner plus one in the back to brake both wheels simultaneously.
Speaking of the rear wheels, just take a look at the derriere of this little car. That cylinder along the top between the mud guards is the air filter box. You can see the carburetor, a Bing, up in the top right. And right in the middle you can see the shock mounts and the chain case which transfers power from the transmission to the rear wheels.
How does that power get from the transmission to the chain case? Glad you asked, it comes via this tiny drive shaft with these crazy donut style universal joints. These U-joints are reminiscent of those found under many vintage Ferraris. Does that make this a performance car?
Um, not really... at all. This fly weight automobile was equipped with an air-cooled 297cc single cylinder overhead valve engine. Notice the separate 4 speed gearbox that is equipped with reverse so you don't have to get out and push. That black shroud around the cylinder serves to channel air over the cooling fins. In the winter the warm air can be diverted into the cabin to keep occupants, two at most, nice and toasty.
That aforementioned toasty air is propelled by this fan. The dome in the middle brings to mind the front end of a jet engine.
Here's a shot of the chassis and body about to be reunited. I was struck by how tidy and well sorted the chassis components are. It's a funny little car but there is some serious engineering here. For example this car came with tempered glass like a modern car. That doesn't sound that interesting until one considers that this was an economy car and that practically all domestic cars from this period were running laminated glass.
All good things must come to an end and so must this little strip tease. I hope it was entertaining and informative. When I saw the bare chassis for the first time I knew I had to share it. Happy Friday!
2 years ago Aaron Vick Starnes quit his well paying bank job to pursue inevitable poverty as an automotive writer. He has experience in automotive restoration, and works at a shop restoring and customizing cars. Follow him on Twitter @AaronVStarnes and check out his blog.