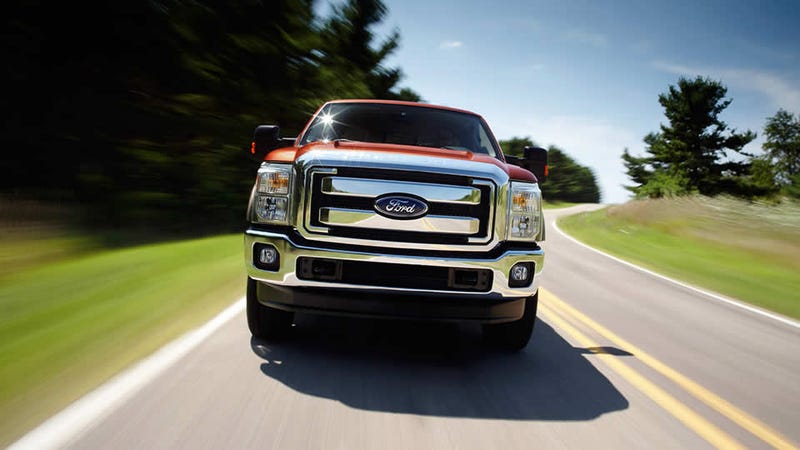 From the two times that the new Tacoma's teaser shot has been posted today, I'm getting the impression that many of you agree with me that pickup truck grilles have become ludicrously large.
Not even counting the Ford Super Duty above—the ridiculous pickup grille champion—let's look at the "regular" full-size pickup trucks, which have all been updated within the past few years (except the Nissan Titan).
Press photos for pickups are ridiculous. They all feature workin' men doing work, or driving through the great outdoors, or towing something. Sometimes more than one of these at the same time. Unless we're talking about the Sierra Denali, which I had to try slightly harder to find a towin' shit press photo for, because it's the fancy pickup, and GM wants you to think it's fancy by parking it in front of fancy architecture.
Man, that sure is a fancy truck, it's in front of that fancy, empty building.
Here's a two-for-one cliche pickup press shot of the Titan, looking positively restrained with its itty bitty grille.
Although to be fair to the Titan, other trims have a big ole chrome section on their bumper, to make the total chrome area similar to its more modern competitors.
Of course it's parked in front of something vaguely industrial looking.
Now that GM has updated their compact pickups (and now they're "midsize" pickups apparently), you'd think maybe they would exercise some restraint to differentiate these smaller pickups from their big brothers.
Ah crap, they're BOTH towin' shit through the great outdoors with giant grilles. At least the Chevy's isn't chrome. Except when it is chrome.
Well hell, that's downright reasonable.