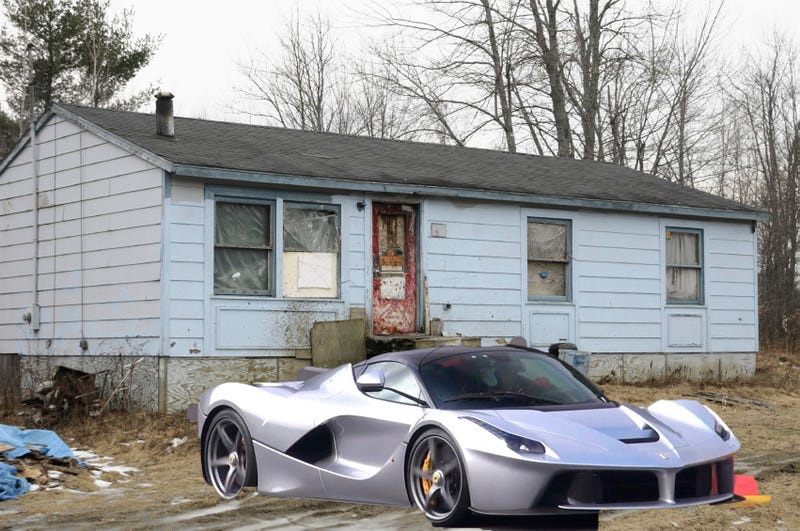 Hi Oppos. I'm selling my 2014 Pagliacci Hey-Ya. It's been really well cared for and runs good.
Why am I selling? I recently got a LeFarrari and I'm not comfortable street parking it, so I need to clear out room in my garage. It was a hard choice between the Hoyra and my Lamboghini Veyran, but the misses likes the Veyren more.
Pangani founder Christian van Koenigsegg personally inspected the car and gave it a thumbs up.
The car is 100% stock and I just put a new set of Hankook Eagle GTs running on OZ 16s. Same goes for the interior:
Engine is a V8 with manual column shifter and factory bench seats front and rear. This is a track day monster that's sure to be at home at your local cars and coffee. Pegani enthusiasts commonly refer believe this is the best and most coveted year. The road manners have been compared to a souped up go cart, but unlike Miata's, this is 100% street legal. 0-60 is in the 4 seconds and it'll run 16s all day.
Comes with a clean and clear Carfacts report:
This was easily a $200k car when it came out and I could easily get $50,000 for it, but I wanted to offer it up to fellow Oppos first. Oppo discount is in effect and I'm offering this up at $15,000. Cash or money order is preferred. If you have to pay by check, please make it payable to my business (for tax reasons): Certified Accounting Services Honeybunchesofgoats (you can use the acronym CASH).
I'll even throw in shipping to anywhere in the world for free, so don't worry about having to pick it up. Just send me the cash first so I can use some of it to pay the shipping costs.
Please no trades, I'm selling this to make more room in my garage. Also, no low ballers, I know what I've got, etc., etc.