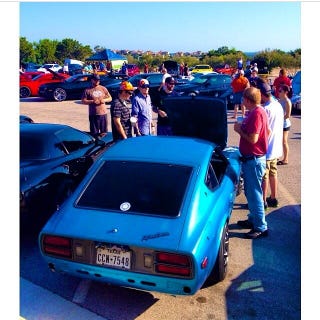 So I've realized that if you want to go fast.. and I mean sub 10second 1/4 mile fast you can't use a Datsun without spending tons of money and ruining the excellent handling these cars are known to be.
So instead of ruining a perfect autocross car or canyon carver to make a drag car I'd be better off selling the Datassun and buying a back halved drag car. One with a roll cage , rear end , and chassis that will hold the type of power I'm shooting for .
So here it is Oppo . First dibs goto ya'll cars mod list is below.
Engine - 5.3 Cast Iron Block
Trans- T56 fully built that came out of a 800hp+ LS7 Camaro.
Suspension - Suspension tech linear rated springs with Tokico illumina struts that are 5 way adjustable .
Interior - Aftermarket seats covered in mexican blankets.
Paint and body - The car could use a paint job obviously. I covered the car in plasti dip just to find out it doesn't want to come off when you don't have clear coat.. HORRIBLE MISTAKE !
However, the body is very straight with only minimal rust around the gas cap door and a little rust on the driver side frame rail. The deck lid is rust free along with the battery tray which are usual the first to rust away.
Any questions ask them here. 123 Go !