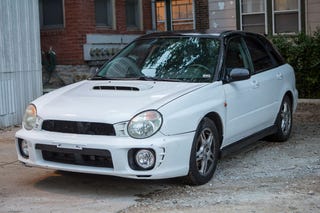 Yes, the time has come. I should be sad, but frankly, I'm not. Because if one aspect of my life has kept me poor these last three years, it was the wagon. Here's the service record, just so you have an idea.
This is a repost from last night because I want some opinions on the price. I'm asking $3500 and expecting $3000. Then some punk emailed me this morning with many ROFLs and LMAOs offering me $1000. I didn't take him seriously, of course, but he still made me wonder quite a bit if I'm pricing it correctly.
The way I see it, this will make a great, quick project if you already have a $1200 shortblock in hand. And for $4200, you have a running WRX with decent miles and a rebuilt transmission. It seems like a decent deal to me.
But you're smarter than me. What do you think? Don't tell me what you'd pay for it. Tell me what you'd sell it for.