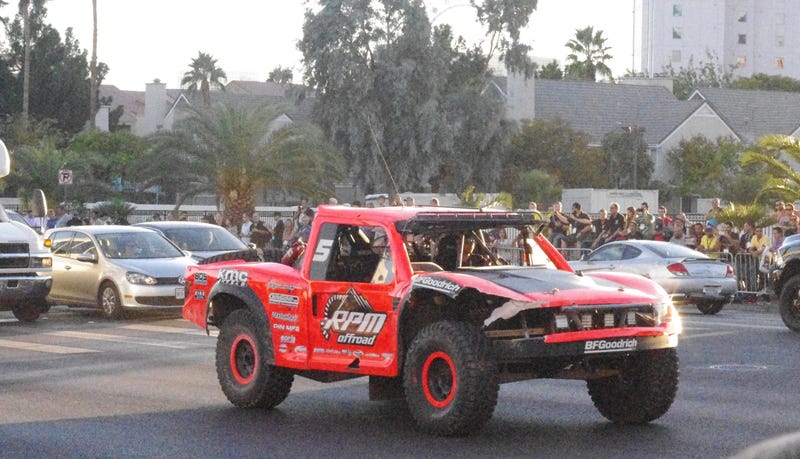 The SEMA show is a week-long trade show which is closed to the public. But around 3:30 on Friday afternoon thousands of people begin to crowd the streets outside of the Las Vegas convention center to pay witness what must be the ultimate auto show roll out.
There's a combustible mood handing in the air at the roll out event. For many who have attended the event this week it's a chance to finally see all the shiny machines in motion.
For the public, until this year , it has been their only opportunity to see all the great stuff that's been locked up in the massive convention center. Yes, that's the 3D printed car by Local Motors.
Before the gates are drawn back to unleash all these customs on the Las Vegas streets people's heads collectively swivel at the sounds of exhaust. The smell of tire smoke wafts along in the evening air probably from the Ford Raptor ride along.
They've been flogging two trucks over a parking lot with an asphalt jump and whoops all week. Finally, now that the show is over they have decided to put one last set of tires out of their misery, and the smoke from the burnout rises up in a white acrid column.
The procession of cars left behind deep V8 rumbles and the sweet stink of race gas.
Most everyone behaved. There wasn't much in the way of sideways slidy, smoky, stuff. But there was a lot of saber rattling. Most displays of horsepower were confined to revving.
The LVPD was out in force to make sure that was the case. There was however a brief break in the armistice when the driver of a trophy truck dropped the hammer on about 800hp and blasted through the intersection. It was electric and drew riotous cheers from the crowd.
You never know what, or who, you'll see at SEMA. Barry Maguire looks somewhat grumpy as he waits on his sound guy to make his way through the throng. Barry liked the vantage point so much he decided to shoot some footage for his show.
2 years ago Aaron Vick Starnes quit his well paying bank job to pursue inevitable poverty as an automotive writer. He has experience in automotive restoration, and works at a shop restoring and customizing cars. He also is a grad student in journalism. Follow him on Twitter @AaronVStarnes and check out his blog.