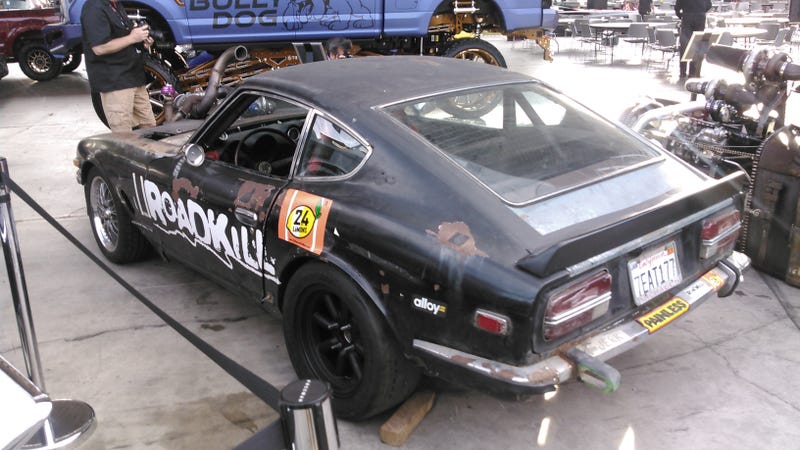 (Yeah, I know it's late, had a medical issue hit my ass.)

SEMA is in Las Vegas generally during the first week of November. While it's mostly about the cars, it's also about the stuff surrounding it, Celebrities of all kinds, from TV personalities and Models, to Racers will take time out to sign stuff and meet the fans. And beyond SEMA, Las Vegas has a few things to offer whenever a major Convention hits the town.

Discovery Channel had a massive area with a stage to film segments for it's Velocity Live TV show (which aired at 5PM PST in Las Vegas, an hour BEFORE SEMA closes down for the day) and a few cars from some of their TV shows......and one from Roadkill. Yep, the Rotsun was brought in......and according to the boys, it was broken (Finnegan used the term "mocked up," which still means broken).

I did get to meet Finnegan, and I completely spazzed out when I mention my cosplay of Freiburger. UGGGHHHHH...... I figure the boys have met with worse......fans, not the cars that seems to throw new problems at them.
Other celebrities did come, and almost every day of almost every hour had at least one celebrity at a booth signing posters, taking pics, etc. Some lines snaked past other booths, and wait time were long depending on the celebrity.

Going on from something that should stay in Vegas, SEMA gets ridiculously crowded. It must be a NIGHTMARE for the various photographers from the news sites, media outlets, blogs, and vlogs, as you cannot always get a nice clean shot and must take multiple shots and wait sometime for people to clear and not walk by. I learned to wait, move, a/or just stand in place with my smartphone out in front of me just as an indication that "Yes, I wanna take a picture, go around me."

(That 280Z 2+2 above was built in a collaboration by Gas Monkey Garage and 2016 Top 10 Battle of the Builds finalist Big Mike. Yes, Gas Monkey dipped into the J-Tin pool. I hope Richard Rawlings stays away from J-Tin for the foreseeable future.)

I pretty much had to delete at least a hundred or so photos where either my smartphone didn't focus correctly, or someone walked into the shot and ruined it.

One thing I noticed is tha there were several "simulators" with a few of the companies. Lexus had this setup in North Hall, Ford had one with the Focus RS, and there were a couple of others.
For vendors, one way to attract attention is to have something oddball and unique that nobody else would have. Laid-Back, an apparel company, had this old 1971 GMC 2500 Ambulance in the South Hall Upper, named the Jambulance.

Another way to attract folks is offer demos of your stuff. Trailer Valet was allowing folks to try out one of their products where you can move a trailer without breaking your back (or fetching a truck). The little tank-treaded gizmo in the foreground is called a RVR.

Or to get people to your booth, have your name splashed across it. Jay Leno had this booth launching a new car care line. The freebie from his booth was an air freshener.

Speaking of freebies, one task I do every year is to grab as much stuff that I can, stuff it into a spare luggage, and bring it home to give to my friends and co-irkers. And this year was no exception, as I managed to get my fair share of stuff. Mostly bags, but I also got tons of pens, and oddly this year, I had 50 can coolers. I don't know how I got so much.
Slowly going away from SEMA, it was sorta hard not into bumping into stuff related to the show. Signs like this were here and there (There were even vendor signs at the airport baggage claim!), the Miracle Mile Shops offered a $2,000 value coupon book for showing your pass, and one strip club was offering free admission for showing your pass as well. Being a Convention City mecca, it's expected that Las Vegas will pull out the stops for many Conventions.

And this is what a SEMA room discount will get you!! Actually, I was shocked that I even got this room at The Elara, as I was expecting a one room affair (Bedroom/Kitchenette/Living Room combo with small Bathroom), but somehow I got the keycards for this! I barely used half of the room space; the living room was where I chucked my luggage and laundry, the kitchen barely held food and drink I bought, and I didn't even use the Jacuzzi. Maybe they ran out of rooms and bumped up.

One thing i'll say, at least the channel lineup had more this year than in the past. But they removed the porn selections. Weak.

At least the views were better this year. I got a good view of the High Roller, and this view looking towards LVCC and Westgate.

I gambled in Vegas, as per what you're expected to do here. I lost $500 to this machine at the Fremont Casino. Grrr......
And eating, yes, I ate. This is the Reuben from Greenberg Deli in New York New York. Delicious.
And what trip wouldn't be complete without visiting this landmark. The place has become a shrine for the Las Vegas shooting; the guy in pink salmon in the background is near the 58 crosses put up to commemorate the victims. Along the fences were banners, flags, and other items; the sign posts, rocks, and even a small electrical transformer had tons of graffiti for the attack.

And this wraps up SEMA 2017. It could've been better, but overall I enjoyed it. People will go off to their respective businesses, the TV stars will go back to manufactured drama and unrealistic deadlines, and me? Back to the daily grind.