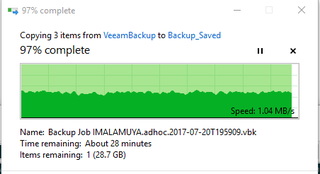 The shitty BackupPlus Hub is shaking the whole desk as it crashes the head over and over. And the copy just failed.
"Drive Pass" my ass.
edit: Sweet fucking christ, $50 engagement fee and a $550 recovery fee for a single non-encrypted external drive?! And you won't guarantee the file even when a checksum is available, because it's not a format you're familiar with? And if you recover even 100MB of this 1.17TB file then you consider it recovered? And you also will not honor the warranty on the drive after data recovery?
HAHAHAHAHHAHAHA FUCK YOU IF YOU THINK I'M BUYING ANOTHER ONE OF YOUR PRODUCTS EVER AGAIN.
Let's see what Kroll OnTrack says.