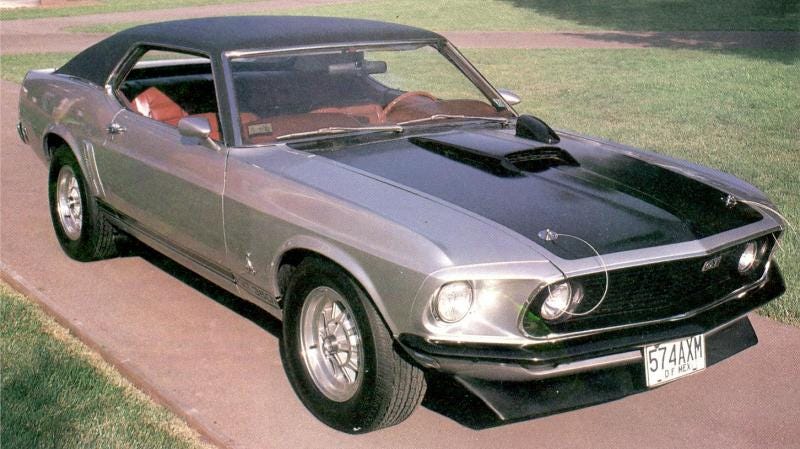 No, Oppo, that isn't a run-of-the-mill 1969 Mustang coupé someone decided to craft into a poor Mach 1 replica with GT350 rocker stripes. It is a legit Shelby GT350, just not the one sold in the United States. It's the one sold in Mexico.
The Mexican Shelbys were the brainchild of Eduardo Vélazquez. When in 1965 Ford of Mexico started manufacturing its own version of the Ford Mustang, Vélazquez teamed up with Carroll Shelby to act as a supplier of performance parts, aimed at converting regular Mustangs into GT350s. Shelby de Mexico was born.
But that's pretty much the US GT350, you're probably thinking. Well, demand increased, and both Shelby and Vélazquez agreed to create an actual dealership GT350 model based off the Mexican Mustang. Since the Mexican Mustang was only available as a coupé, the fastback and convertible models were discarded from the beginning. The only engine available was the 302ci straight from Ford's Mexican factories, giving it 315 HP. A total of 169 were sold in 1967 plus 203 more in 1968.
In 1969 the GT350 Mexico finally gained the iconic Shelby tailights. Unlike the US GT350 and GT500, it retained the 1969 Mustang's front end looks. Vélazquez sold 306 during that year, one of them being a special racing model commissioned by himself, and fitted with a 377ci motor capable of 450 HP at 7000 RPM. This was far more powerful than the ordinary 302, and dominated touring car racing in Mexico during 1969 and 1970.
In 1970, no Mexican Shelbys were built. The model would return for the following year as the GT351, although it had close to zero Shelby hardware. As the name indicates, it was powered by a stock 351ci V8, again made in Mexico. Production estimates are of 250 units for that year.
At the end of 1971, Shelby was out of business. The last Mexican Shelbys built were a 300 car run based off the Ford Maverick. Similarly to the GT351, there was no performance addition, nor actual Shelby hardware. These 300 cars marked the end of what was arguably the most interesting of all the Latin American classic cars.