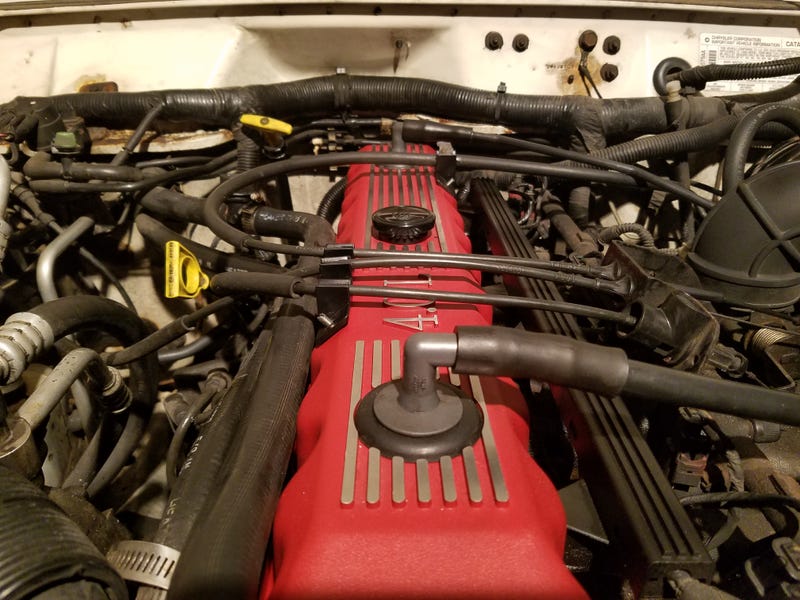 This old thing was dripping oil everywhere, because it's a Jeep. A head gasket change was in order so my friend bought this killer valve cover too. I think Finnegan and Freiburger would approve, it's very Hot Rod; slightly over-the-top but with high quality parts. I wouldn't be down with this if it was just a plain gloss red, but the crinkle finish and polished grooves/ "4.0 L" badge on top make it ice cold cool.
Last week, DeMuro wrote a piece about these XJ Cherokees becoming the next collectible "classic" SUV. I can see that, but I think it'll be highly model/options dependent. The two XJs my friends drive? Not so much. The typical XJ that's still on the road today has 4 doors, around 200,000 miles, and plenty of rust.
First, all of those daily driven Jeeps will have to disappear from public roads like the Land Cruisers and Rangie classics have. XJs are still an everyday sight in the rust belt and until that's no longer the case, they won't seem "exotic" enough to command 5 figure prices.
And then? Just like the early 2-door Range Rovers, the 2 door XJs will go first. They're extremely hard to find in nice condition, and the long rear glass adds vintage style to these boxy little things (3000LBS AKA 1000LBS lighter than the nineties sedan I drive - an impossible feat these days). That said, they already command a premium (2x as much as a 4 door in similar condition). But that's an XJ sized premium price, so right now you're looking at 6-7K for a nice example.
If you could find an early 2 door with a 4 speed and the 4.0 (which is the entire point of these vehicles as far as I'm concerned) I bet you could run it for 5-10 years... for free, if you have the heart to sell it at that point. You won't though. These cars are just so honest, deeply American, fun to work on, and cheap to maintain. The 4.0 also makes deeply amusing agricultural noises as it lumbers up rocky inclines on the trail.