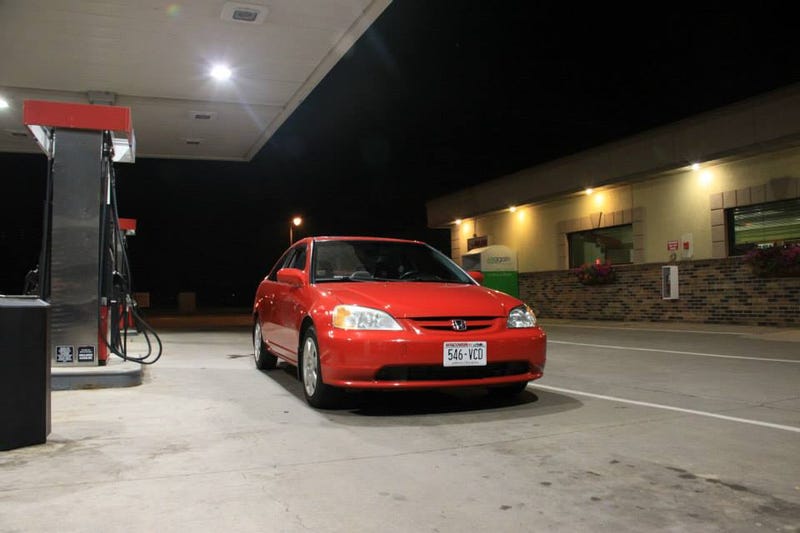 I want to see all your cars, ALL OF THEM. or at least the ones you have pictures of. I know not every one here is 24 years old so some of the lists could be 20-30 cars long but who cars. Tell us what you've had how/why you got them, and why you moved on. We love cars that's why we come here, take some time to look back on your past loves, and the ones you didn't love so much.
My first "Iggy" (named after Takumi Fujwara's sidekick) 92 Camry LE 4 cyl Auto. I had it about 13 months
Number 2 My first stick. "Kenji" 99 Civic EX four door. I got it after the Camry's trans went poop. I had her for maybe 8 months because I saw something on CL I had to have.
Number 3. 1991 Civic STD hatch. My baby "Mary Jane". A hot red head just like Peter Parker's girl. I actually bought this car, and sold the 99, because I knew I would love it. This girl was all mine for 2.5 YEARS. I had two other vehicles in the time I had Jane.
Number four4. "The Bullfrog" 98 Tacoma 3.4l V6 five speed. with T100 leaf springs (we never got around to lifting the front). I kind of inherited this car from my Dad. We lived in Wi, and he was relocated to CT by his employer, and given a Tundra so he left me his Tacoma THANKS DAD!. I had it for about 5 months, but lost my job so I couldn't keep two cars I sold it and gave my Dad the money. Even though I didn't have it long I loved this truck. It was great for everything from hauling trash, to moving stuff, to playing in the mud. Heck I even did a little drifting with this beast.
THEN THERE'S THIS F@#$%R!
number 5. a 94 Mazda MX-6 2.3l five speed named Alice. I bought this car 6 months after selling the Tacoma. I had gotten a pizza delivery job and felt like the Civic's 220,000 miles were a bit to much. I bought the Mazda and planned to drive it while I rebuilt the Civic's engine. The only problem was The Mazda had more problems the the Civic. This piece left me stranded on the way back from a delivery, and I left it there. I let my buddy pick it up and he left it in his yard till I payed it off, then he crushed it. So at least there was a happy ending.
Number 6. my Green 97 four door GSR named Bulbasaur. Getting this car was bitter sweet. On the one hand I had a GSR, being a Honda guy I held the GSR up pretty high in my mind. On the other hand I had lost my sweet Jane. IN June of 2012 I was rear ended my an Olds Aurora. Which totaled my mostly rust free 91 Civic.
It was a bit of a basket case, but I loved it until the throttle started randomly sticking, and I realized it had a lot of other issues that I hadn't noticed because I was grinning to much. This cars front tires were put trough a lot of torture. it is still the fastest thing I've ever owned, and Just look at that redline.
Numbern 7. 97 Honda Accord EX sedan named "Lapras". After 7 months the little problems on the GSR got to be a bit to much so I put it up for trade on CL asking for a 5 speed hatch, or a small pick up. A dude from North Dakota responded with this Accord and it looked like a good deal to me. I actually liked this car a lot. The F22 is a good torquey engine, and the 5 speed had a good feel. But it had some pretty bad rust on the driver's side, and I just don't NEED four door in life so it seemed like a waste. I had the one for 9 months.
number 8. "Charmander" 2001 Civic EX coupe. This car came to me. I worked at a Ford Chrylser Dealership selling cars, and this one came in on trade. I wasn't planing on buying a new car, but I just kinda fell in love with this one. The first time I walked over to our fresh trade ins and saw this car I knew I might have to buy it. A week later I brought her home. I've had it for 9 months now, and I'm itching for a new car lol, but I've got a payment, and I really can't complain. This car is a bit bland, and very slow, but rust free, and reliable.
Who knows what number 9 will be, or when for that matter.