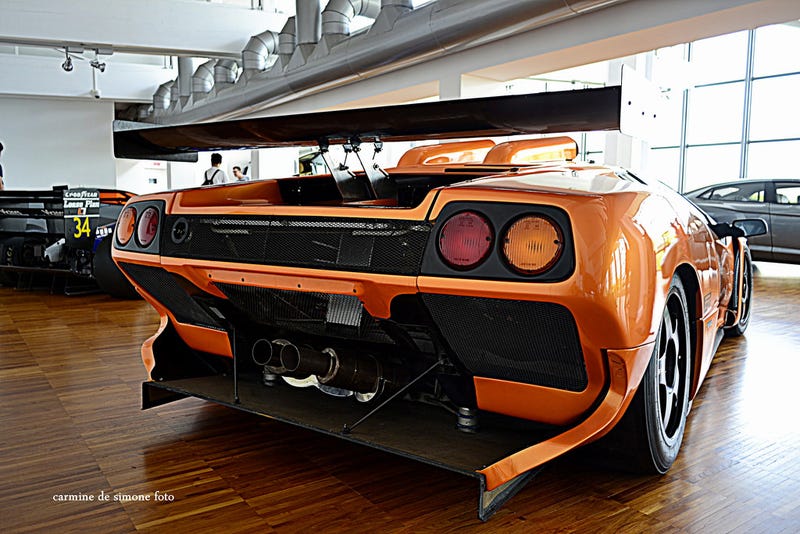 Incredible rear section of the Diablo GT2 - wooden diffuser set very, very well in a fantastic rear assembly!
Can't remember where I read about the wood itself (balsa? pine?) but it's basically an example of efficient engineering as well as being an innovative idea
A lot of great things started with the SV, like the spoiler that made its way onto later models which I posted in the recent Jalopnik article about spoilers, which actually prompted me to make this one :D
Though this diffuser evolved, from alllll the way back...
What excites me about its diffuser is the "hollowness" of it, the massive radiators for the engine lead out into the cupped diffuser which is also moving a lot of air from the underneath of rest of the car up and away...
But the road car perfection lies in the GT, where a new, lighter version is used by omitting the rear bumper (the GT was a Euro-only model) and the lights there were integrated into the taillights (I love asymmetry in cars, this is a mild example of such)
The new diffuser makes those fans so visible, plus it shows how steeply raked up the rear end of the body is, I love how it so visibly screams that the whole rear is designed to get air up and away, giving downforce (the SV makes a bit of positive downforce at speed, the GT with new front dam and this assembly probably makes more)
The SVR had a great setup as well, but GT2 happened, so that's my race car entry!
You know I'm biased, so open my eyes! :D I really wanna to see examples from both road and race cars guys :)