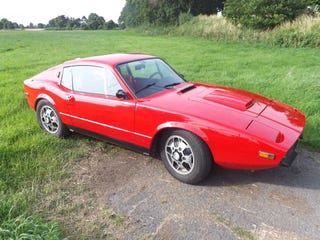 I saw a Saab Sonett yesterday! No SR20 because it was "speeding" past my intersection before I could get my phone out, but seeing this lovely red little car got me thinking.
There are some amazingly beautiful cars that are designed to look like they are fast. They are streamlined, sleek, low to the ground, but tired snail-slow. I am now going to dub this group of automobiles the "Sonett Class."
For me, other members of the Sonett Class include the VW Karmann Ghia, and the lovely looking but awfully crippled C3 Corvette.
What is your favorite car that looks like it should be fast, but is actually pretty damn disappointingly slow?