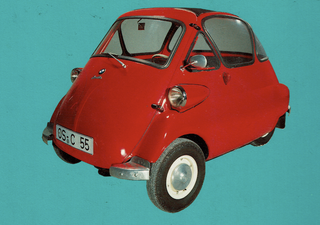 Here is Part I where we learn about Renzo Rivolta, Iso, and the Isetta's origins in Italy.
One of the great things about the postwar microcar boom was that it totally democratized the automobile industry. At least, everywhere except America. Since regular cars were financially out of reach for the masses, and most car factories were demolished anyway, anyone who could fabricate something vaguely car-like could become an automobile manufacturer. The public was hungry for cheap transportation, so all you needed was some wheels and a motorcycle or scooter engine, some DIY engineering skills, and whatever scrap you could cobble together. And, who knows, if you hit on something the public liked, maybe you could eventually compete with the big boys. This then forced those big companies like BMW and Fiat to produce cheap cars, something they hadn't really ever done before. Or, at least in many decades. It was a rebirth of the auto industry and, like in the early days, everyone was welcome. This gave us cars the likes of which had never been seen before, or since, and led to an explosion of innovation. Similar to today where necessity is giving us incredible advances in technology when it comes to efficiency, manufacturers of the 50's learned how to make cars whose primary feature was their thriftiness. And, they had to make this transition quickly, all while rebuilding their factories, to prevent them from being left behind. So, that's how we got a car which was like no other that was something of a collaboration between one of these new, cottage industry carmakers, Iso, who would go on to build cars that rivaled their larger rivals; and BMW, a relative Goliath who needed to keep up with the Davids in order to survive.
At the 1954 Geneva Motor Show that saw the debut outside of Italy of Iso's Isetta, BMW had on display its new 502, a gorgeous car powered by Europe's first V8. It was a vehicle almost no one on the continent could afford to buy, not to mention keep running with gasoline still scarce and expensive. After the war, most of BMW's manufacturing capabilities had been dismantled, all the machinery and tooling handed over to the Allies. Plus, one of their main factories in Eisenach was now situated on the other side of the Iron Curtain. In 1948, they were permitted to resume production of motorcycles, building 250cc powered bikes from parts mostly left over from before the war. People were so desperate for any kind of motorized transportation that they sold everything they could build, so the company stayed on its feet, if only barely. When they finally had the means to build a proper car, they actually did first think to make an economy car.
The 531 was basically just a spruced-up, modified prewar Austin. Primitive, but that's all that people could afford. However, when Hanns Grewenig was put in charge of BMW, he decided he wanted a luxurious car to be a "calling card" for not just the company, but all of Germany. Notably, the opposite of what Volkswagen was doing. So, they produced the 501, an almost completely hand built, exquisite car powered by a 65 horsepower straight six.
It cost between 13,000 and 15,000 Marks, over ten grand more than a Beetle. And, that would be the cheapest car BMW offered. As they put more models into production, the finest ones pushed 40,000 Marks. People who paid that kind of money wanted something much more modern than the staid, old fashioned looking cars BMW built. Add to that the fact that by the mid-50's, demand for motorcycles had tanked as people wanted something with protection from the weather, and BMW was in dire straits. They couldn't sell enough vehicles to keep the production lines open. They toyed with the idea of producing a Vespa like scooter.
It was called the R10, and they built a few pretty prototypes, but rightly decided that there wouldn't be enough profit margin, and the scooter craze had pretty much run its course.
Back in Italy, Renzo Rivolta wasn't selling enough cars himself to build his company into what he envisioned for it. He knew Fiat had a small, inexpensive car far along in development. Fiat was too powerful in Italy for Renzo to compete with, so he needed a way to get his Isetta into the rest of Europe. Exporting was too much of a hassle, and he wanted to transition his factory into building full sized cars. He needed to sell licenses to manufacture the little Isetta. He knew it was a winning, modern design. The cars his company had built were well received. So, he took the Isetta on the road and ended up at that Geneva show. Right alongside the car he was running away from, the Fiat 600.
The Isetta definitely caused a stir. Weird, little microcars were just starting to catch on, and the egg shaped Isetta was was one of the weirdest. A single door in front, that bubble like greenhouse. It didn't look like a car.
But, it was comfortable, well made, and incredibly practical, being purpose-built for a poor country in the midst of reconstruction. One of the first people to be taken with it was the Swiss importer of BMW's. He knew the company had finally thrown in the towel and was looking at starting the long process of again attempting to design an affordable car. And, here was one ready to go. He immediately called Hanns Grewenig who then sent head of development Eberhard Wolff to Italy. Grewenig wanted to act fast and get the best deal before some other desperate German company beat him to a license. This was a win-win for Renzo Rivolta. First he needed the cash; and second, BMW, despite flagging sales, was a company with a good reputation and distinguished history, and they would lend legitimacy to Iso.
When Wolff reported that the car was actually good, legendary engineer Fritz Fiedler joined him in Iso's home of Bresso, Italy to hammer out the details. Fiedler decided against licensing the Iso twingle motor. It wasn't particularly reliable and, at 9.5 hp, he felt it was underpowered go figure. BMW had plenty of experience with small engines, and only licensing the body design would save some money. Grewenig was still skeptical. He knew his designers could come up with something much better than this pumpkin shaped contraption. But, it was so cheap to produce, and Rivolta was willing to sell all the tooling, so the initial investment was tiny. Exactly what the cash strapped company needed. At the very least, it would serve as a stopgap until BMW could develop its own small car. So, the deal was signed and one of the finest makers of luxurious motorcars the world has ever known began producing the cheapest, most basic and funny looking car ever.
Fiedler made a few refinements to the original Italian design. He raised the headlights into mounted pods, and smoothed out the cooling fins. He also added a heating system, and changed the suspension from rubber pads to steel helical springs. Most importantly, the car got a robust single cylinder, 250cc motor derived from the R25/3 motorcycle engine. It made 12 horsepower and was a four-stroke unlike the original's two-stroke Iso unit. 250cc's was also the cutoff for a special reduced tax driver's license which meant a built-in market. The motor was connected to a 4 speed motorcycle transmission adapted to have a standard H pattern, and with a reverse gear added. As BMW converted part of their factory to begin production, word got out that BMW was coming out with Germany's cheapest automobile. A stunning development in a country starved for cheap autos. Even the Volkswagen was too expensive for the lower class; it was considered a middle-class car. And, other makeshift microcar makers produced cars in such small quantities, they practically didn't exist. So anticipation was high for the German Isetta when it was released to the public in April of 1955.
The reaction was better than BMW hoped. Everyone loved it. It was so much more refined than other microcars of the time like the crude Fuldamobil, and rickety Kleinschnittger. The Isetta, by comparison, had many creature comforts. Climate control, electric start, a comfortable bench seat. It also drove well. The suspension was sophisticated for such a tiny car and care was taken to keep noise and vibration to a minimum. In their review, Das Auto wrote, "That one has managed to so thoroughly isolate the engine in terms of vibration, but that not a trace of vibration in suspension, chassis or steering wheel is passed, is simply a gem!" The engine, while underpowered, had the torque of a 4-stroke, so was good enough in city traffic. It also got up to 60 m.p.g. And, because BMW could produce it in larger volumes than the small manufacturers, the price was unbeatable. 2550 Marks. It was cheaper than some motorcycles and it kept you dry.
BMW sold 50,000 in less than a year. The Isetta had arrived just in time to take Germany by storm. Because it cost so little, BMW wasn't making much profit on each one, but they were pumping them out in numbers that let it pay for itself which meant the factory could stay open and the company could concentrate on the future. If it wasn't for the Isetta, the Neue Classe may never have happened. The German government at the time wanted to consolidate its auto industry and was pushing for companies like BMW and Auto Union among others to merge. Which is how we got Audi. But, BMW resisted, knowing it had solid markets at both ends of the spectrum. By selling thousands of Isettas, the pressure was off the luxury cars, which BMW could then refine and improve. And they could also go full speed on a truly modern economy car that would mean an end for things like the Isetta.
But, before they could get there, their little egg needed some upgrades. The engine was expanded to 300cc's for drivers who didn't have a special license. This gave it a face peeling 13 horsepower which was actually a big improvement. They also made it a little more livable inside. One drawback of that bubbly greenhouse was that only the small, triangular window opened and it got stuffy in there especially if it was raining and you couldn't put the sunroof back. In 1956 they gave it sliding windows which were a big help and made it feel more like a real car. The suspension was also improved with longer swingarms, larger springs, and new telescopic shock absorbers. BMW also began exporting Isettas and even selling their own licenses.
Isettas were built in Great Britain in both 3 and 4 wheeled form. These in turn were exported to Canada and Australia. A U.S. version with big headlights came to our shores.
Here it was considered a toy. People would have one on their yacht, or use them around the estate. They were even repurposed as golf carts by the Chadwick company.
Road & Track found the Isetta surprisingly "rugged" and went on to say "It is well designed, well built, and it does its job efficiently." Fair enough.
BMW would also use it as the basis of a "normal car." They really needed something above the Isetta's price point to bring in some money. So, in 1957, they did a quick and dirty design by lengthening the Isetta to include a back seat and a rear door.
The 600 used BMW's legendary 582cc boxer twin, and had rear wheels in a normal track. It had an all-new chassis that would be the last separate chassis on a BMW, and the company's first semi-trailing arm rear axle. It was really quite a well engineered machine especially since its development time was only a matter of months. It's also an amazing use of space. It's quite teeny, but inside feels as roomy as any other car. I'd actually much rather ride in its back seat than a Beetle's. The front door is more of a hinderance in the 600 since it can't be parked nose to the curb like the Isetta. But, it's a cool quirk. One that actually doomed the car.
As clever as the 600 was, by the time of its release, buyers didn't want quirky any more. Hans Glas had released the Goggomobil, a microcar that looked like a shrunken normal car, and it was gobbling up Isetta sales. Plus, used Beetles were starting to hit the market in numbers that made them affordable. They tried putting an auto-clutch in the 600 to garner more sales, but it didn't help and production of the "big" Isetta stopped after just 2 years with only 35,000 sold. It was a flop, and a painful one. The little Isetta, though, would keep on in Germany until 1962 with over 161,000 built. An impressive amount for a tiny little pod.
In 1959, BMW would release the 700, a unibody masterpiece designed by Michelotti. Like the 600, it had a rear mounted boxer engine and much of its technical design was an evolution of the 600. The 700's success revitalized BMW and secured it as a modern company. It would then lead to the 1500 which was basically the birth of the company we know today. A company that still has in its roots a funny little egg with one door.
There are many footnotes to the Isetta story. BMW actually had to delay production while they dealt with a lawsuit against motorcycle company Hoffman who had released an Isetta clone without a license. Its only unique design aspect was a door on the side.
As they were selling the license to BMW, Iso sold the entire assembly line to a company in Brazil. Romi was a machine tool manufacturer and its version of the Iso car was the first automobile manufactured in Brazil.
For the first year, they were powered by the original Iso motors, but then they switched to more reliable imported BMW 300 engines. 3,000 Romi Isettas were built between 1956 and '61.
Since all the machinery was now in South America, when the French company Velam bought the rights to the Isetta from Iso, they had to completely redesign the car.
Because they were French, their version had its own set of quirks. Its shape is much cleaner than the Italian and German versions being almost symmetrical front to back. It was also monocoque with a small subframe to house the motor.
Also, as far as I know, it is the only car in the history of the world to have 11" wheels. So, it's absolutely impossible to find tires. The speedo is also mounted in the center of the steering wheel which makes it hilariously impossible to read most of the time.
Belgium has the honor of having built 3 different versions of the Isetta. First was original Iso Isettas meant for the Dutch market. Then, Velam built some of their cars there. And, finally, towards the end of the run, German market BMW Isettas were constructed in Belgium since the ones built in Germany were meant for export. So, the Isetta truly became a global car, even before the Beetle had. Today, they're one of the most instantly recognizable, and collectible, cars in the world. It helped establish two renowned car companies. And, it put people on a war torn continent to work, and back on wheels.