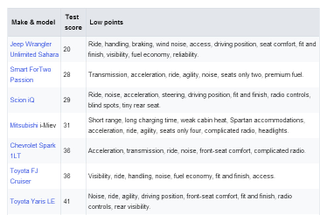 Consumer Reports most disappointing cars... Its a Jeep, not a Lexus.
Rides like a truck - is a truck
Handles like a truck - is a truck
Braking - well braking does suck, but it always stops...
Wind noise - Yes Jeep tops are noisy, if you want a Jeep you deal with it, otherwise you dont buy a Jeep...
Driving position - I dont get this one????
Seat comfort - Mines way more comfortable than the Prius I rode in, but you gave that high reviews...
Fit and finish - again, its a JEEP, you know, the kind people take through dirty places without doors or a roof... I dont want leather and alcantara, I want cheap plastic parts that are easy to clean.
Visiability - ARE YOU SERIOUS. ITS A FUCKING BOX SURROUND BY 95% GLASS IF YOU HAVE ALL THE DOORS AND ROOF ON, OTHERWISE ITS MORE OPEN. GTFO.
Fuel economy - Show me any other truck platform that gets over 20 mpg on the highway (yes yes F150 eco-boost, shut up)
Reliablity - Well, it is a Chrysler product.
TL;DR version, Fuck you Consumer Reports and your idiotic-ness.