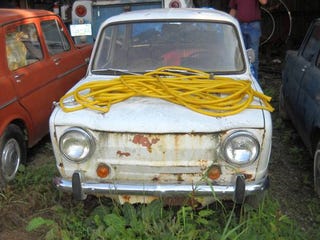 Clean titles for all 3.
Simcas.
Attention Top Gear..
"I have 3 French simcas for sale. 2 will run. Have tons of parts to go with them. Engine, trans, and various body parts. All 3 are in restorable condition. Clear titles for all three !! $ 4,000 O.B.O. Will consider trades on OLD VW'S. Prefer not to separate. Serious inquires only please. No texts."
We can only assume the red one has the Pinninfarini-penned front end that makes a Jaguar E. Type look like a Datsun.
At $4,000, Nice Price or Crack Pipe?
(note, you have to pay them. This is not a subcontracting bid for removal)