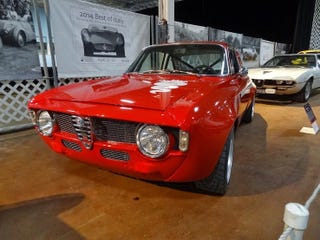 As a South Jersey gear-head I always felt like I was missing out on cool auto events. We don't get a local Cars and Coffee, and the Philly Auto Show is passed over when it comes to hot debuts and concepts. I've been to a few events at New Jersey Motorsports Park, but I still longed for more. Then a few months ago Jalopnik's Answers of the Day listed The Ten Best Car Museums on the Planet. At #8 was The Simeone Museum in Philadelphia; all this time I had no idea there was a place dedicated to historical racecars within a short drive!
Not only does Simeone feature some of the greatest racing cars of all time, twice a month they have "demo days" where they take a few select cars out back, fire them up and run the cars around the lot. Currently Simeone is featuring "The Best of Italy" which is running from 4/12-4/27. This past Saturday I got to visit the museum and get up close and personal with some vintage Ferrari racecars. In addition to the Ferrari demo, there were several awesome Italian sports cars on display loaned to the museum by local owners (my favorite was the Alfa GTV you see in the lead image).
Below you will find a few pictures taken by myself and Mrs. Automatch (the better quality photos were taken by my wife.)
While I knew that some great vintage Italian cars were to be featured, I did not know the local Ferrari club was going to show up.
458 Especial
Apparently there is a dude that likes to act like Richard Hammond and crash the Ferrari club with a 911 Turbo.
I dunno who let the Spyker into the club, but it was a wise choice.
Some BMWs
$kaybait!
The incredible 917, I learned that this Porsche still holds the lap record at Le Mans.
JAAAAAGS
Locally owned 400GT
For most folks, Philadelphia is famous for cheesesteaks and The Declaration of Independence. As Jalops we have a duty to make Philly famous for a different kind of history….why? BECAUSE RACECAR!
This is just the tip of the iceberg of all the amazing racecars on display. For more information go to Simeone Museum.org
@AutomatchTom is a professional car buying consultant, lover of all things automotive and a bit wagon obsessed. You can find more ramblings and plenty of carporn here.