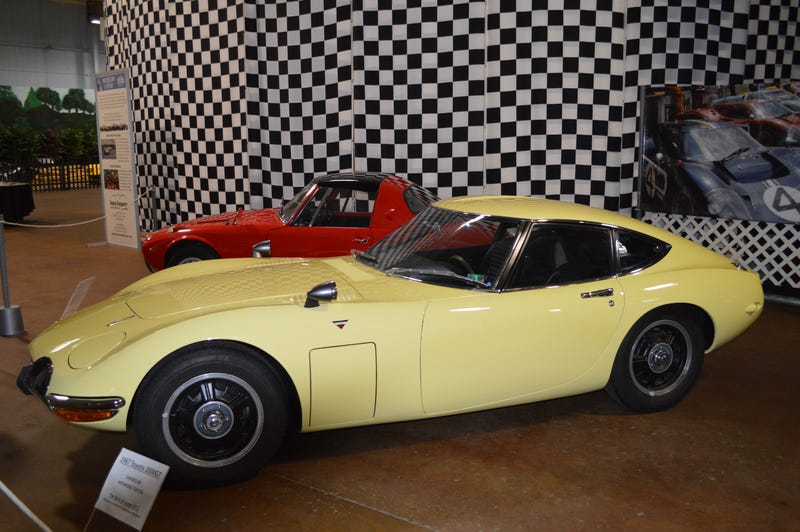 My girlfriend and I made the trip to Philadelphia this morning to see some very special cars before Simeone's Best of Japan exhibit was finished. I do not know how many more chances I will get to see a Toyota 2000GT or a Subaru Impreza 22B. Oh, and I wanted to see the DeMuro Skyline too.
The Toyota 2000GT is every bit as gorgeous in person as I hoped. I really have to stress what a beautiful car this is. It is also not as small as I thought it would be too. All the stories about how Toyota had to cut the roof off of a 2000GT to make Sean Connery fit in one made me think this car was comically small, but its not. Its a little smaller than a Datsun 240Z but not much. The way values for 2000GT's have skyrocketed though, my chance to find out if I fit will probably never come.
Next to the 2000GT was a Toyota Sports 600. Now this is a tiny car. I would still try to drive one though, looks like incredible fun.
Within the Best of Japan exhibit is modern, more common cars such as a mark IV Supra and a second gen MR2 but I will focus more on the classic and rare. These Datsuns complemented the exhibit well and its so nice to see a 240Z that is so original with all its parts intact. Many 240Z's have either deteriorated to nothing over the years or have been modified to an inch of their life.
The Lexus LFA is an extremely impressive car in person. It is very wide and I cannot stress enough how large the vents are behind the side windows. Striking, intimidating but lacking a bit in identity. I overheard a kid calling it a Mercedes.
Did I mention that this car is wide? Because it is really, really wide.
Moving on to the Subarus, this little 360 got a "awwww how cute" out of the girlfriend. The Toyota Sports 600 looks midsize compared to this micro. And what is this buldgy fendered masterpiece next to it...
I thought these just existed in video games but nope, they are in fact real. I was right next to it. Right next to it. The want for the 22B is so strong. I hope they make aftermarket versions of those wide fenders because I may have to find a plain Jane Impreza coupe and make some modifications.
Everybody wants Subaru to put a fifth door back on the Impreza. I think Subaru needs to lop off two doors and make the Impreza a coupe again. And the BRZ does not count.
Right across from the 22B is another blue bomber. The Japanese cars are on the inner perimeter of the museum right in view of all the other cars. I love the raw, unrestored look of Simeone's Daytona. You really get a sense of history when you look at every dent and scratch. I hope they never clean it.
On your way to the other Japanese cars, you will get a sense of how far forced induction technologies have come. On the front of this Bentley is a supercharger. When I say on the front, I mean it is right there in between the wheels. It is massive.
Since the last time I have been to Simeone, they have spruced up their exhibits a bit and now have video screens by them playing relevant footage. The Nurburgring exhibit had some crazy footage from racing in the 30's. Getting around the Nurburgring would be daunting enough in a Gullwing, let along something pre-war.
The Italian exhibit is as beautiful as the cars it hosts.
I know, this trip was supposed to be about the best of Japan. But that Alfa 33TT...
The want is strong for this one too.
Circling back around, the Best of Japan cars are right next to LeMans row. It was difficult to know which way to look as I walked down.
D-Type. Need I say more?

Back on topic, we have the DeMuro Skyline. All the way from Philadelphia, Colorado. Must have been a long drive.
So when I saw pictures of the DeMuro Skyline, I thought the R34 rims were too large. Seeing it in person, I was wrong. The R34 rims really do fit the R32 very well.
Thank you Doug for keeping the Skyline at Simeone for the general public to see!
Across from the Skyline is a Testa Rossa, a car that is worth more than some nation's economies.
Further up from that is a 250 GTO. The Japanese cars were in some very good company.
Obligatory Scaybait is obligatory. And yellow.
By the way, the Mark IV is significantly shorter than the Mark II.
If you look closely, you can see a cardboard tray underneath the car. I noticed several cars at the museum had some sort of sacrificial cardboard underneath of them. Simeone keeps many of their cars in running condition which also means keeping them full of fluids as well. The cars probably leaked when new. Remember, they were race cars. Fit, finish, comfort and (to a certain extent) quality all took a backseat to going fast.
Hey, don't forget to go in the annex!
Thank you to my girlfreind for snapping pictures with her spiffy new camera. Folks, if you want to see the Best of Japan at Simeone, tomorrow is the last day. I recommend you get there early because the place has no air conditioning and it gets hot. You may want to get something to drink right when you get there.
Yes, they do have a vending machine. Hope you enjoyed this Oppo entry for Simeone's Best of Japan. I did get a bit off topic from the Japanese cars but I'm sure you didn't mind looking at the other cars. I know I'm not the first person to cover the Simeone Museum on Oppo but hey, with a car selection like they have who can get tired of the place?