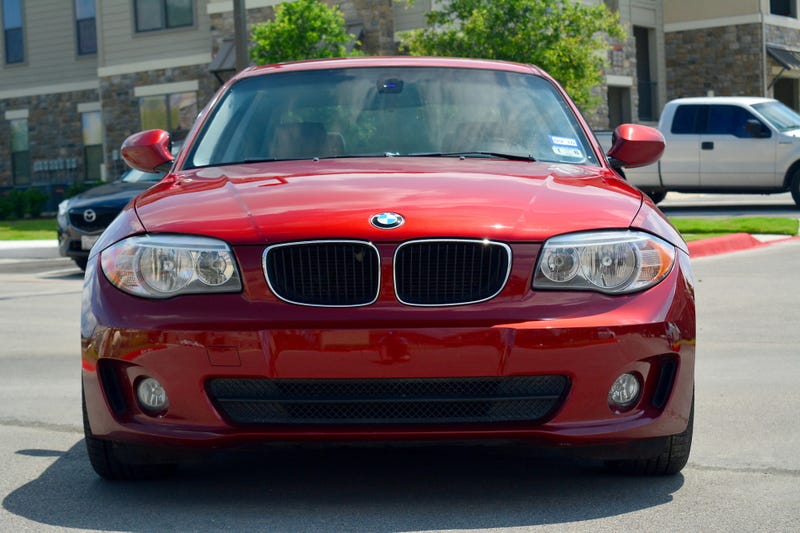 How do you sell a car that has 0 local interest? Well the answer for me was to sell it to Beepi. This is about my experience with them and how the whole process works and of course the catch, which in my case turned out not really to be much of a catch.
Before I get to my experience with selling the car, I'll explain how I came into possession in the first place. When I bought the car, I was a fracturing field engineer for a major oil field service company and I worked a six day on, three day off schedule. This meant that my car sat at the yard for six days at a time in the weather and whatnot. When I bought my E90 M3 in July of 2014, I still had my original car which was a 1997 Ford Explorer sport. This meant my E90 sat in my garage at my apartments safe from everything, it was worth the peace of mind to have two cars.
I was thinking about eventually upgrading the Explorer once I got the M3 paid off. I paid off the M3 in August of 2015. October comes and I'm driving back from the office in San Antonio to my apartment in Corpus Christi on a Thursday night. The speed limits on that stretch of I-37 are 75 mph; I was doing about 79-80 in the Explorer as it didn't really like to go much faster than that. Well just because the speed limit is 75 doesn't mean everyone does that. I had to slow down because the people in both lanes were doing under 75. After I passed them and as I was accelerating back up to my cruising speed, the explorer got to about 3.5-4k RPM at about 77 mph and then went to idle and lost all power. I put it in neutral and pulled over to the shoulder, but before I come to a complete stop, it dies. Now for the past about 7 years this car has been plagued with sensor problems. That's a subject for another time maybe. Well ten minutes of me trying to get the damn thing going again eventually produces a result, it fires up and I drive the thing back to Corpus. Here is that unreliable Explorer:
I'm done with this car, it's been the most unreliable car I've ever had. So I start my search for another car. My dad had been looking for something fun to drive, I guess after a Buick Regal and a Hyundai Sonata I'd want the same thing. He was looking at 3 series coupes and I suggested he look at 1 series as well since he wasn't going to use the back seats and they seemed to be a little cheaper than a similar 3 series. This was mid-July of 2015, and I decided on one of my off days I wanted to drive a 1 series. Went to BMW of corpus and they had a red 128i, said I was interested and they got the keys. After a test drive I decided I could live with it, but it wasn't the time. End of July my dad gets himself a nice CPO 135is. I come home in October and spend some time driving my dad's 135is around and start looking for one as this is right after the event with my explorer. That 128i that I test drove in July is still at BMW CC, but instead of sporting a 22k price tag, it's now 16k.
Upon my return to Corpus, I go to BMW and buy the 128i. It was a one owner car, with 48k miles on it and an inservice date of 4-15-2012. Pretty much only had the sport pack and leather, which are really the only options that I would have wanted anyways. Great little car. Some months of uneventful ownership passes; then April happens. Well, I already mentioned I was frac engineer, well I'm sure you're all aware of the basic crash of the oil market. If you're not, here's what happened back in 2014, I was sitting on a frac site on Thanksgiving when the OPEC meeting when they decided not to cut production. The company man says simply "well boys, that's it"
So I got laid off in April of 2016. This meant that one of my BMWs was going to get at least put on the market. I wanted an M3 since I was 13. It took me 2 months of car shopping everyday to find the one I bought. Plus I had money saved up and it was paid off and once I got a new job I was going to buy another M3 so it made more sense to me to keep the M3. That meant the 128i would be the one I sold. Before that, I took the 1 on a month long road trip of the southeast, because now that I no longer had a job that ate all my time, it was time to catch up with my friends. Put 3500 miles on the car without a single issues. When I got back to Texas I decided I was going to sell it.
Before I listed it online, I figured I'd take it to Carmax and see what they'd offer. I had seen similar 128i's on their website with prices north of 16k so I figured an offer north of the 13.3k I owed on the car was very possible. I had no job and didn't need the added stress of two cars, and since it's not like it cost me anything other than my time and the gas to get over there, I figured what the hell. So I scheduled and appointment and took the 1 over there. They looked at my car while I walked around their lot. Here's the appraisal:
What did they offer me? 13.3k, 14k, 15k? Nope, 12.5k, that was it. The guy that was walking me through the offer tried to tell me it was a fair offer, and that they don't really offer BMWs for sale with more than 50k miles on them, mine had 54k on it, and that it was more of a fair deal. Before I told him that was bullshit and pulled out my phone and got on the carmax app and showed them that was BS and then tell him to go play in traffic, I decided it'd be better if I just left with their shitty offer. I'd try my luck with Autotrader.
Made an add on autotrader and hoped for the best. That's not the original iteration of the ad, that's from later with pics stolen from Beepi. I had 0 interest, literally not one phone call or email or anything. Because I was looking for both a job and trying to sell my car, I answered every phone call I got. One afternoon I get a call and it's from a place called Beepi, never heard of it, the woman on the phone explained that they buy cars from private parties and then resell them. Over the phone they say that they can offer me around 14k, contingent on an inspection. No obligation to accept their offer so I say why not and schedule an inspection.
So on 6/9 they send someone out to inspect the car. He came to my apartment and spent about 2 hours inspecting the car. I had bought the car from the BMW dealer that originally sold the car and they had done all the necessary maintenance before they sold the car to me, so apart from needing tires, the car was in pretty damn good shape. Once the inspection was done, the inspector handed me back the keys and departed. Two days later I got an email with their final offer.
Even with the tires and the lack of front license plate holder taken into account their offer was still 2k more than Carmax. I can't find it, but I believe they deducted $500 for the tires and $100 for the license plate holder, which would mean that their offer would have been around 15k if those items where there or in better condition, a fair offer from a company that makes money reselling cars.
This offer sounds way too good to be true what's the catch? If something sounds too good to be true it usually is. So here's how Beepi works. They make you an offer and then they get to list your car for sale. You also get to try to sell your car. If 30 days passes and no one has bought your car, they come pick up your car and you get their offer. Now, if they sell the car before 30 days has passed you get their offer no matter how much they sell the car for. Meaning that if someone had bought my car the day it was listed on Beepi for 17k , I would have gotten 14.4k and Beepi would have gotten the difference minus the tires and license plate holder. Basically, they're betting they can sell the car for more than you can and faster. However if 30 days passes and they can't sell it, they pick it up and you get their offer. All I had to do was sign a digital agreement saying I would notify them if I sold my car or I owed them $500. Here's the document:
I should point out this has all been completely free to me, and I haven't given them my credit card info or anything that they could use to charge me. Once I signed the form they put my car online. It's still for sale if you want to check it out.
At this time I also figured I might as well list it on Craigslist, something I had been avoiding, so I did that.
Once again, nothing no hits. It's a pain in the ass to try and sell a car no one seems to want. I understand it's an auto, but for it to be a manual someone has to buy it new with a manual and sadly less and less and people are buying them new with a stick.
Thirty days goes by and since no one wanted to buy it, it's time for them to come pick it up. They send me an email and tell me to contact them to schedule a pick up.
Schedule a pick for the next day and the same guy that inspected it arrives with a tow truck to come pick it up. He also arrives with a folder with all the paperwork necessary to release the car to Beepi, and most of important of all, a check for the difference between the amount I owed on the loan and their offer. We signed the paperwork and I handed over the keys and he loaded the 1 series onto the flatbed.
I then went to the bank and deposited my check, which cleared into my account the very next day. So I'm back down to one BMW, albeit a 6MT E90 M3, guess life could be worse.
So what did I think of Beepi? If they offer you a fair amount for your car, I see no reason why not to take it if you're having as much difficulty selling it as I was. Would I buy a car from them? After seeing how detailed the inspection was, yes I would. They're a little on the pricey side, but so is Carmax, they also offer warranties for purchase as well, I'm not too sure what all that includes, I just sold my car to them. That was my experience with selling my 128i to Beepi, whoever buys it next is getting a pretty sweet little car.