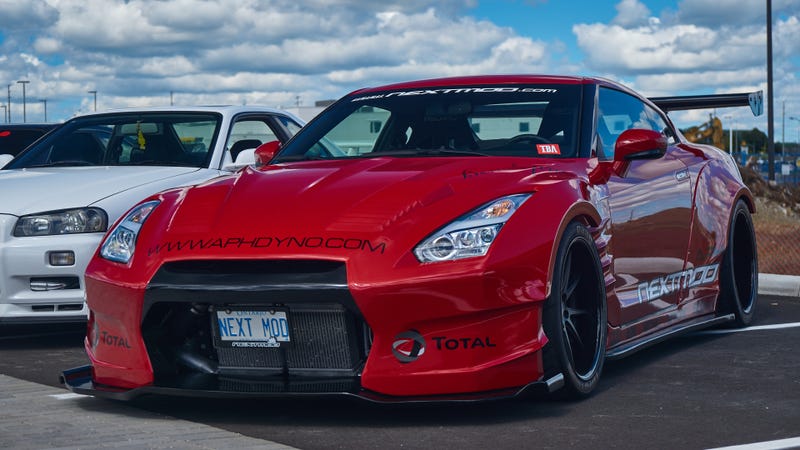 Skymeet, aka Skyline Meeting, is back after a one year hiatus. New host, new location, new clubs - here's what I saw.

For those not in the know, Skymeet East was originally the baby of GTRCanada and was hosted at RightDrive's dealership in years past. However, it quickly grew in size and eventually there was no one left willing to host the event, or be held liable for the various shenanigans that could follow. Thus, there was no event for 2015 and as far as I can tell, the GTRCanada forum is pretty much a graveyard.
Fast forward to 2016 and here's where we stand: a new club (GTA GT-R Club), a new host (Infiniti of Brampton) and much to everyone's surprise, an event date seemingly ready to go (although it was posted a week prior).
As soon as I arrived at the gate (2pm), I was greeted by the sight of one of my favourite R32s in the country, only it was leaving for home! Though I guess you can't fault him for having made the 5 hour drive from Quebec to get here. Definitely need to arrive earlier next year.

Pressing on, I scoped out the lot to see what was present. As many of you know, the price premiums on R34 GTRs has put them out of the budget for many prospective Canadians looking to make the best of the import legality. Still the R34 population that was present was represented fairly well with a seemingly endless supply of GTTs and 2.5GTs.

While the lot was still somewhat empty, I made a bee-line straight for my headline car: a brand new BenSopra GTR fitted with a HKS GT800 turbo system. Okay, not so much new as it was present at Importfest Toronto last month, but this would be my first proper shoot of it. Outside. At any angle I wanted, free of those silly barriers. Oh, I was excited.

Remember GTRCanada? This white R32 is one of the OGs from that space, and still wears the custom decal from a few years back. Frankie, who also hails from Montreal, Quebec, is an engineer who used his car for much of his university project work, mainly looking at suspension geometry and aerodynamics (that I can remember). He also retrofitted his own cruise-control system to the car, something R32s never had from factory.
This is one of the most "built-not-bought" R32 GTRs that I can think of, outside of specialty areas like tuning. Did I mention he tracks this car? Frequently?

Think what you will of the R32, but when one is done right you just can't help but step back and appreciate. The below example also happens to be one of the most pristine GTRs I've come across in recent memory, decked out with various genuine Nismo goodies. I found the additional lip spoiler a nice touch, as well as the Rays LMGT4 GT500 edition wheels (note the centre lock).

This isn't how I would have arranged a generations display (R32 through R35) but it was definitely a sight to behold.

There was definitely no shortage of Nismo GTRs present either, with two being customer cars and the last one a dealership demo ride.

One of the members of the GTA GTR Club also took delivery of Canada's first MY17 Blaze Orange Metallic GTR, pictured here. The owner certainly isn't afraid of taking it to events and it's become one of the most recognizable cars of the group thus far. Also pictured is the last of three Nismos.

Despite their age, the R35s still look pretty modern when parked up next to some other current offerings. Also, couldn't help but to shoot these three Gunmetal Grey cars parked beside each other.
Even though their show has already passed, the ImportFest crew just can't help but to crash people's parties. Joking aside, they're all friends behind the scenes and usually roll as a group whenever there's a big weekend meet somewhere in the GTA. The iFest crew are never one to back down from the widebody faze, with one member (Navin) going a slightly different route and adapting the 997 GT3 Cup look to his 911 Carrera.
With the grand opening of Infiniti of Brampton, there certainly wasn't a shortage of space. I definitely had my work cut out for me trying to look for stuff to shoot, grabbing shots inbetween hordes of people and whatnot.
I gave a different polarizer filter a try today (mainly because I forgot mine at home) and I am overall pleased with how most of the shots came out. Some, particularly when the sunlight was changing didn't turn out as well as I intended. The above R33 in Midnight Purple was lost in translation above, but you can clearly see the pearlescent paint in the shot below.
As the day went, some owners decided to head for home.
While others stayed behind to see what would show up.
Two R34 GTRs, one would say, but there's more to these cars than meets the eye. Convincing as they are from this angle, the left (below) is actually a very well done R33 and the right is a GTT with most of the appropriate bodywork.
Hiding in the corner was this well-kept C6 with a giant wing. I suppose it would make for a good track day platform a few years down the road, wouldn't it?
Suddenly an Alfa Romeo 4C showed up!
With ZCON having passed through Toronto, the vibes from the continent's largest gathering of Z-Cars were still in the air. The above 240Z belongs to a friend of mine and is very well kept, having been completely refreshed and repainted for this season. Underneath is still the carbed L motor, and he hasn't yet revealed what he plans on swapping into it yet. (I've shot him an idea or two, no luck)
Something I rarely ever see in these parts is a Z33 Nismo, the original with the extended diffuser. Looking back through my photos from the past two years, I think this happens to be the only one I've seen...
Similarly, this is the only Tommykaira kitted R32 I've seem. Ever. Murmurs around the lot were that this car still carries all its original work, but I never got a good look around it unfortunately. Shoutout to R32Jordie for reaching out: although this R32 does carry a lot of TommyKaira parts, it is not an original car from the factory. Regardless, it was a neat find and I do hope I see it again in the future.
Let's try anther Midnight Purple R33! I'm starting to believe this is a colour best observed in person...
Must be fun to drive around on a freshly paved parking lot...
Wheels can maketh or breaketh a car, and TE37s are always a good way to go. A timeless design to go on a timeless car.
As you can imagine, the Infiniti owners also have a club of their own - VQ North.
Amuze kitted Z34s seem to be fairly popular, though this is the first I've seen with actual performance modifications as well. I recall seeing a photo of this exact car at a Shell for gas, with a brand new Ford GT (red/white stripes) at a nearby pump. Wonder what that conversatio was like...
And so, as the lot continued to empty I grabbed as many of the remaining shots as I had planned and got ready to leave myself. With the lot set up as it was, there weren't many opportunities to go for slightly more creative angles. I mean, for this shot I was essentially standing where the ditch would be, two meters behind the cars and looking up.
As I was making my final walk around I heard the rev-bomb of some funny looking orange car as it passed by the highway. Lo and behold, that same orange car was parked outside the gate - it's a shame the new generation Viper ended so quickly, because a car like the TA 2.0 possesses so many desirable traits... apart from the price.
BONUS: a Rocket Bunny FR-S that somehow slipped into the event without many people noticing. How is that even possible?
After the event, I was out hunting for some diecast cars and spotted this out of the corner of my eye in the valet parking area of the local mall. A Lamborghini Huracan Avio, 1 of 250, and dedicated to the Italian Air Force. My word was this thing loud, bu I guess that's what happens when you fit a V10 with straight pipes. The owner was super cool, and it was nice to finally see this car in person properly.
Not a bad Sunday in my books.