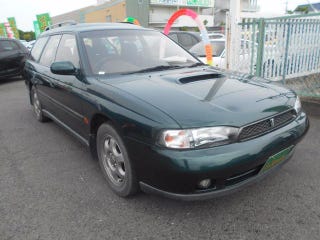 From the outside, this JDM 1994 Subaru Legacy GT doesn't look like much. The same can be said for the interior. Open the hood, however...
...and you'll find a 2.0L Twin-Turbo H4 good for 245 hp. Quite an upgrade from the 165 hp 2.5L H4 found in the same generation USDM GTs. While there are many faster sleepers these days, I'm sure you'd still catch some unsuspecting motorists off-guard. Did I mention it weights right around 3,050 Lbs?

Find this one on Goo-Net here with 37,500 kms for 350,000 jpy.

However...
I'd probably spring for this GT-B, which gains you 30 more horsepower, the 5-speed manual out of the Version III STi, and this awesome '90s interior!
I don't know what it is about the Twin-Turbo Legacys that I like them... maybe it's the "oddity" factor? In the back of my head, I know I'd probably be better off and possibly happier with a similar vintage Impreza WRX or STi... but...

Oh well, I've got a few years to figure all of that out. In the meantime, I've got more current plans I'm working on...