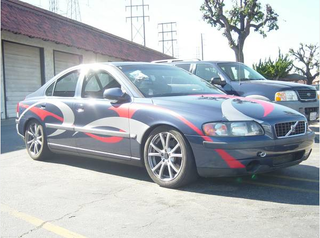 Not your average soccer mom Volvo. Just removing the Asics shoe sticker designs and go hunting for the favorite lap record.
The ad states: "I will even let you keep the Baby on Board sticker.....
People will point, smile and some might even laugh...a Volvo? They won't be laughing when you blow by them into Turn 1."
I can see the look on my wife's face when I take her out the garage to see the new "safe" car I bought. With dark tinted windows I am sure she won't notice the roll cage in the back seat... Also the straight pipe exhaust when I start it up.....
Here is the original ad: