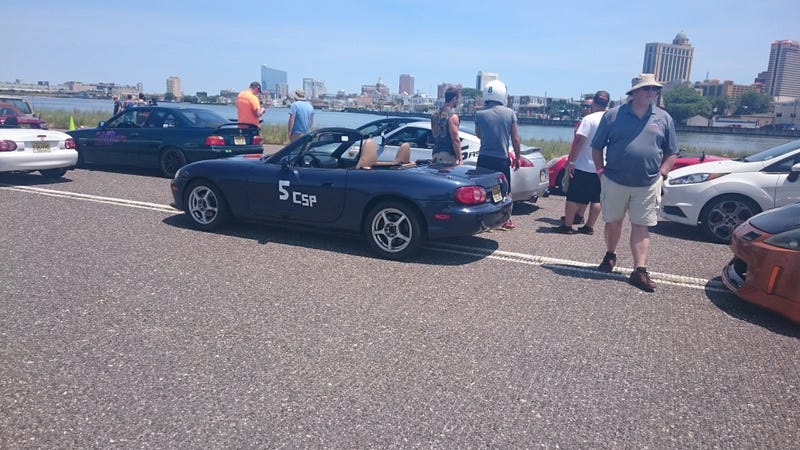 While I now have to run in CSP against people with turbo'd engine swaps, racing seats, and who knows what other mods, it is still well worth it. Only other mods I have are flyin miata vmaxx classic coilovers and flyin miata front sway bar so ideally I'd run STR. But thanks to the Hoosiers I now am in Street prepared. Anyways, these things are so much fun. The car holds so much more speed through turns and seriously loves heat. The hotter the tires got, the faster I could go! I am used to Street tires that require constant watering and pressure release to stay predictable. There is the downside of feedback being minimal on the edge of grip but that is something I can learn more with experience.
I still have no idea what pressure to run these at but I will look to the forums to solve that. I ran them at 32 all around but with only 6 runs for the day, I couldn't really figure out if I wanted less/more. Hoping I can get a test and tune in at some point to really find a sweet spot.
The only bad part of using these tires now is transporting them to events and back. Seeing as I have a very practical Miata, I had one strapped to the luggage rack and three in the passenger seat. The transport part isn't so bad but swapping the wheels at the event and carrying them up/down to my apartment certainly is a test of my interest in this lol. I think I will invest in an electric impact gun to make things quicker though. I was the last car to leave the event just because it took so damn long to swap my wheels with a lug wrench. At least I had my floor jack and not a scissor jack though!
My new Street wheels look pretty nice though. Glad to not be tearing them up with autox. The DZ102s could work for autox too but again, I want them to last and not get torn to bits. Hoping they make it a solid 40k of highway miles and spirited back road driving.