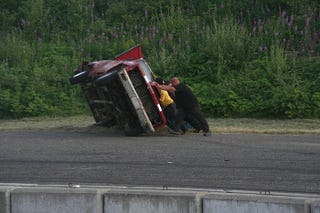 Here we have a picture that sums up my Thursday night. And you thought Australians had burnouts cornered.
If you don't know what that is, you're probably from a city where there's more to do than gather at an oval and watch cars crash into each other. It's called Hit to Pass and from a quick google, which, granted, may have just found events close to me, this doesn't look to be popular outside of B.C./Alberta; there's not even a wikipedia entry on the sport(?).
The rules, as you may have guessed, are simple: cars race around the oval and must hit every car they pass.
For the first rounds this ends up being a game of PIT maneuvers, where the car behind moves up on the car in front of it and taps it ass-end like a pervert on a Tokyo train, resulting in something like this:
This goes on for a few heats, with the first car making it across the finish line winning. This means nothing. At the end, every car that can still run gets back on the track for the main event.
This means there's a lot of 'fixing' going on in the pits before the main event, which usually is done by: A) a hammer; B) a cutting torch; or C) tie down straps.
Then all the vehicles race around the oval, smashing into each other until only one vehicle still moves under its own power.
The lead picture shows you one such unfortunate soul who appears to have lost a wheel and ploughed his car into the dirt track side. No matter what he did, the only result was tire smoke and rubber flying from his wheel, and he tried until there was a column of tire smoke drifting into the sky like he had a wood burning stove in his vehicle. I was seriously worried that he would asphyxiate himself on the smoke, but instead he probably just gave himself cancer for lungs.
I too may now have the cancer in my lungs; by the end of night a low cloud of tire smoke and a variety of other carcinogens hung over the track, which had been turned into a car graveyard, giving the air an acrid taste.
In the end cars were flipped and wrecked, and at least one trans am look alike car that actually races in the local racing association stopped after his engine produced a very loud and very unhealthy bang.
Here is a van and a slowly dying Panther:
The white car no longer has suspension (I saw one of it's rear springs claw it's way free yelling 'fuck you' to the car as it bounded to freedom) but is still drivable and so much more suitable to getting frisky with the van (also, to the right, you can see a wheel that seems to have had enough of the action):
The Red Bull car has had some creative wrenching done on it during its down time, resulting in the interesting placement of its radiator:
edit because kinja crop