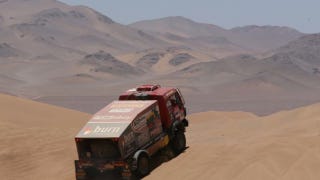 Two members of the Spanish based Epsilon Team, a 27 year veteran of Dakar, were arrested in France after 1,5t of cocaine was found in their vehicle.
The team attempted to smuggle the drug by hiding plastic wrapped packets in the tyres, both spare and on one of their service vehicles. Apart from the two team members (a driver named Xavi Mora and another unidentified male) two related arrests were made in Bulgaria. The team's head, a French-born citizen of Spain David Olivares was also detained. The police say that further arrests are imminent.
Epsilon has been a major service provider for Dakar and many of its teams for 27 years now, but its future is unclear.