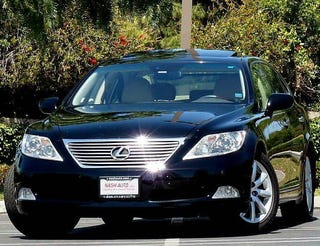 I'm going to be posting a lot of cars and asking for a lot of opinions the next few months as I shop for my next vehicle. As before my choices are all over. Ill also be taking my wife's suggestions with a grain of salt since she likes to suggest overpriced vans. So to start off with, take this 2007 Lexus LS460 I looked at yesterday. I love this gen of the LS. It has aged well, the design is still pretty current where people wont really know you're driving a 10 year old car (unless of course you're in the know).
It has almost 136,000 on the odo and is in great condition. Its one owner and all the service records are there as well.
The interior is remarkably clean, even more so in person than in these pics, which tells me either an old person had this or someone that really cares that they spent 80 grand on a car. I'm just concerned about the reliability and repair costs (that's a big one for my wife). My research has been hit and miss on these. Most have no problems with them, but the ones that do are more interior quality and repair costs. So I thought I would come to Oppo and ask. What should I be concerned about if I got an LS?