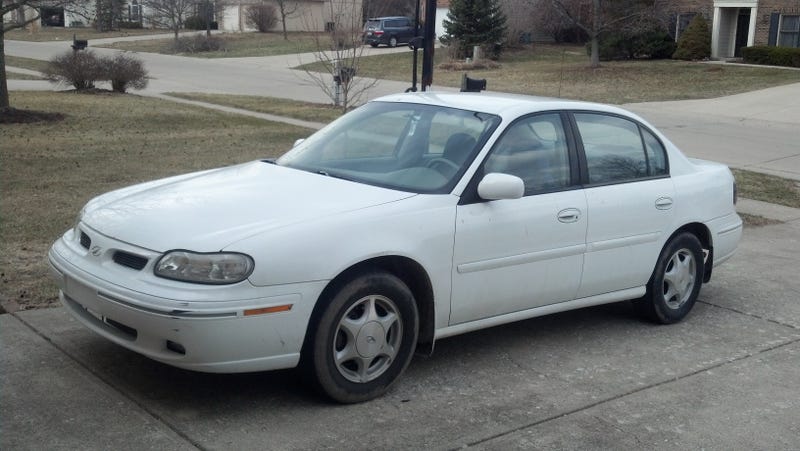 Sadly, it's not an E30, Miata, Volvo wagon, or diesel Mercedes-Benz. There's a few reasons why that is, though...
While I paid for this 1997 Cutlass out of my own bank account, I'll eventually (hopefully) be reimbursed by the executor of this whole process, my mom, who had a very specific set of completely batshit insane requirements. Said criteria excluded anything that was *deep breath* performance-oriented in any way, rear-drive, V8-powered, diesel, German, Swedish, southeast Asian, a Chrysler product, longroofed, older than 1995, smaller than my Focus, an SUV, a 70's/80's/90's van, or a full- or mid-sized truck. Whew. Little brother was less than enthusiastic on the prospect of learning our dying art, so three pedals were also a deal-breaker.
Like me, the kid also delivers pizzas as a part-time job, but unlike me has absolutely zero interest in cars or working on them, so buying someone else's project to fix up on the weekends was out of the question. As a 3100-powered N-body this Cutlass should only need gas and oil changes for the foreseeable future, and parts will be plentiful and dirt cheap in case anything goes wrong later.
Finally, the third and the main reason I picked this car was its price. At $2000 I felt there wasn't a better value out there especially since, prior us buying it in the hood of Indianapolis from a black dude named Ivory (who only drove the car a few thousand miles), it was owned its entire life by a little old lady who, according to receipts and records, kept the mechanical components religiously maintained at the local Olds/Chevy dealership. That care showed during the test drive: even in its seventeenth year the transmission shifted smoothly and surely, power came on strong, and the suspension provided a soft, comfortable ride even at 90mph, which was surprisingly each to reach in this thing.
Apart from a tiny bit of the usual Malibu/Cutlass surface rust around the fuel door and wheel wells and some paint scuffs (which a weekend with a quart of Bondo and sandpaper and a nice can of touch-up paint will fix right up) the car requires nothing except a bit of Febreze to get rid of the old people smell. It even has leather seats, side airbags (which a lot of the cars I looked at didn't), and cruise control, so it's well-equipped for a car that didn't even cost a third of mine, and (as much as I hate to admit it) will likely be more dependable over the rest of its lifetime. All things considered, I'd say I did a pretty decent job.