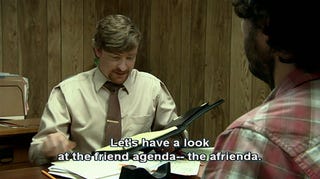 The BMW dealer called me up and said that they had found that the shifter seal was leaking and told me that they wanted $746 to fix it. I got a quote from Just BMW for $438 + Tax to do the same job. I called the dealer back told them no don't fix the seal, I got a better price elsewhere. They told me that my car was ready otherwise and I could come get it. So, I maneuvered the USS Silverado into port and walked up to the counter to pay my dues.
I asked for the old TPM sensor that they had replaced, when I got a surprise response of, "We didn't replace anything, we were able to run the reset procedure on it to get it to work." Cool, I thought. The gave me the bill for a total of $139, which I paid and walked out to my car. I walked out to see that they had washed it and cleaned the interior. I saw one of my WeatherTech floor mat hooks sitting on my mat and not installed. So I put it in the cup holder and started up my car.
I fired it up and my tire light was flashing at me. I reset it, thinking that maybe I just needed to to that. Well after less than a mile Mr. Light came flashing back. I turned around and drove right back to the service department. They checked the pressures and reset the light with the column stalk as I had. They said it should be good.
Well I was not good. The light returned. I drove home to calm down and take a good deep breath before going back to put my boot up somebody's ass. I looked over the paper work and low and behold this is what I found:
I didn't tell them to not replace it, but I'm glad I did because this was their estimate for it:
HOLY PRICE GOUGING BATMAN!
Oh and that $104.56 on the sheet to the back right is for manual transmission fluid. My transmission takes 2.7 pints of ATF, so that's right around $310 a gallon. WHAT THE FUCK BMW? DO YOU MILK THAT SHIT FROM A VIRGIN DRAGON OR SOMETHING? JESUS-TITTY-FUCKING-CHRIST.

Oh and I can't find my other mat hook, those fuckers still have it.
And, no I never once gave them a shitty attitude and was nothing but courteous and friendly to them the entire time. Yeah, never going back to them again and nor would I recommend anyone go there.