Im at the local Midas with the HEMI Wagon, to get the transmission flushed and the transmission pan bolts replaced. Fairly standard stuff.
There are people who dont know a damn thing about cars sitting here. Now, this Midas is really good. I trust these guys and they do not screw anyone over, and theyre great people overall.
With this in mind, there are people seemingly joking around about the displays they have in front. Their strut display, the tire wear chart, the fluid chart, etc. People find it funny to try both. What on earth is wrong with these people? This isnt a children's museum.
I mean, your tires are your sole contact patch with the road. It kind of means you car will turn when you turn the steering wheel, and the car will stop when you push the brake pedal. *simplified*
I digress quickly, but its infuriating to see people not take it seriously.
Im here to get work done that I dont have any tools for. These people are here because the cigarette lighter isnt working, or because the car doesnt stop like it used to. One guy has a jeep that even the shop is having major trouble getting the wheels off.
I feel like there needs to be a shift in thinking here. Hear me out, because it could improve the world.
Us car people take care of our babies, make fun of each other for having automatic transmissions, and praise each other for having, buying, or helping keep them on the road. People who arent into cars see them as appliances. Remember that absolutely genius article comparing cars to dishwashers? Thats how it is, but not how it should be.
Even people who arent "into" cars should be "into" their personal safety.
Like Subaru's "They lived" ad campaign, the unspoken factor is how well the car is taken care of. They didnt necessarily live because of the Subaru around them. That commercial could be done the same for almost any modern vehicle that gets serviced when it should.
It should be a great thing to see repair shops take car of people with the same level of professionalism and courtesy that I see here at Midas, but maybe these people should be able to run a calendar along with their odometer. Tire rotations on schedule, brake pads on schedule, oil change on schedule. If you can go to the beach every weekend, or take a surprise vacation trip for a weekend, you can both support local business, but keep roads safer by making sure you take care of the vehicle that takes care of you. No one wants an accident or plans to have a major problem, so its important to do the preventative maintenance that keeps things in check. Keeping up on maintenance doesnt mean your piggy bank will suffer, it may save your piggy bank from impending doom later.
This:
Not this: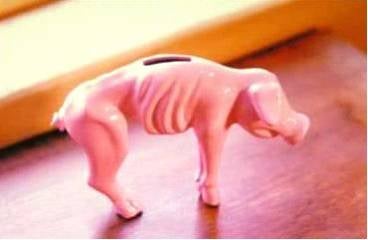 With the smartphone and calendar sync, older cars can be managed easily. With newer cars that just scream for service, well, maybe they should be a little more specific.
I know some people do still keep a book of what goes on with the car, while others may not do it the same way. I keep a spreadsheet of my car. Mileage, cost, maintenance performed, and any additional notes or reminders. Its a habit that constantly reminds you about the car and to take care of it. Letting problems go longer wont make them go away, they fester and evolve into truly horrible things, much like an ER horror story.
Unless you're in line at the pump purely to fill your washing machine, I think it would improve all roads for people if everyone at least regarded their vehicle as a safety cell while on the roads, maybe just maybe the world would be a different place.