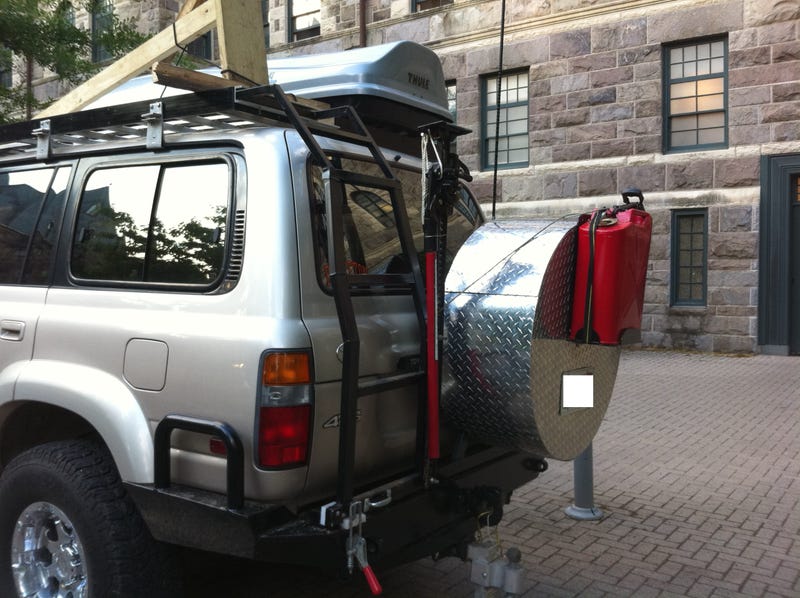 So I just stumbled across these photos a couple days ago. This project took place about four years ago. I have a '93 land cruiser, and not a whole lot of companies make body armor for these trucks, at least for sale in the US. I especially didn't like any of the rear bumpers that were available for purchase so I decided to build one myself. I went to the metal supply store and bought a 4'x8' 3/16" sheet of steel plate and proceeded to whip out the plasma cutter.
The basic process involved prototyping the pieces I wanted in cardboard and then cutting them out of steel. I alternated between tack welding these pieces to one another on the truck and then removing the bumper to fully weld up the seams.
I built the bumper from the center out, if that makes sense. This bumper was designed to be completely bolt on and is. The real time killer in this project was welding up the seams between the metal and then grinding/sanding them down so that they looked like the metal had been bent into place.
For the ladder and spare tire mount I bought one of those build your own bumper kits online that comes with the hinge and clamp to secure the swing arm. I ended up using left over steel I had in the garage for this part and that was a mistake. I used some 2"x1" square tubing which turned out to be undersized.
The first test of this bumper involved driving my car from CA to NJ and in Moab while taking some dirt wash outs at speed I warped the swing arm with all the torque from the spare. I fixed this by tying the ladder into the roof rack until I get around to building a new swing arm.
I also learned why most bumpers on the market have two hinges on them (so that the ladder and spare open from the middle of the truck) - one single arm is REALLY long and makes opening the back a pain in the ass if anything is behind you. Other the arm issues, which is on my short list to fix I love my bumper.
It really looks like it was custom made for my truck and I get compliments on it wherever I go. Hope this inspires someone to go out and buy a welder. Building something from scratch out of metal is truly a reward experience.