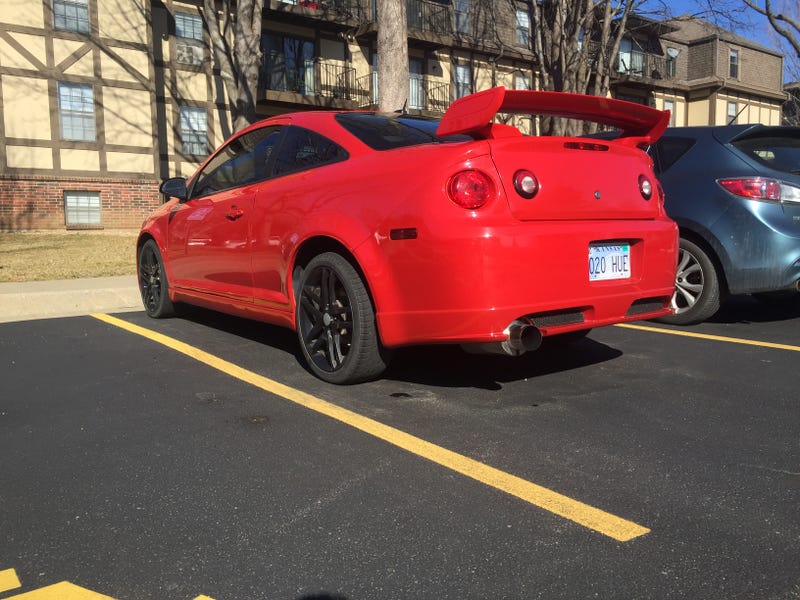 I'm still trying to come to terms with saying I'm a Cobalt owner, but here it is. A 2009 Cobalt SS. Also known as the Turbalt.
I got it dirty cheap because that's the only way I buy things. The Mazda is now up for sale. I'll most likely put the Cobalt up for sale once the title comes in. However with that all being said, I'm genuinely shocked how well this car drives.
Dynamically this car feels far superior to the Mazdaspeed3 or the Mk5 GTI. It's faster, it handles better, it steers better, it sounds better. However, it's still a Cobalt, so all the typical GM rattles and such still apply. As a daily, it's a stiff ride, but I expect that from a sporty-tuned vehicle. Basically it's a shitbox, but it's a really fast shitbox.
This car was formerly ricer owned, so there's a DC Sports exhaust, K&N Cold Air intake, some brand short shifter and a no-name blow off valve. Also, the wheels are either powder coated or painted. I don't like them, but that's something I'd change if I were to keep it.
Also, the taillights were painted black. Painted. Jayhawk Jake helped me out in stripping the paint off and returning them to stock. I'll post about the de-ricing process later.
All in all, it's an OK replacement for the Mazda. I bought the Mazda as a dependable vehicle for my move to KC. The Cobalt is far more fun than the Mazda. It's a manual whereas the Mazda was an auto and it cost me less than half the Mazda's price. So win win win in my book.