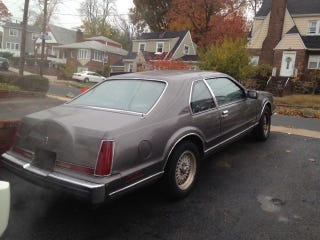 That will make 5 cars in the stable. I may clean this one up a little and sell it. We'll see. I'll be taking a train (or should I say 2 trains) into NJ and driving it back. It's an estate sale. The owner recently passed away and I got the line on this from a friend. It has some exhaust work and some other minor modifications, but the estate manager really isn't a car guy so he can't tell me too much.
It needs a new left turn signal marker and the driver seat reconditioned. The Marchal fog lamps work and the covers may or may not be in the trunk.
After that I'll upgrade the radiator, fan clutch and add a transmission cooler. Pretty much anything with a 5.0 from FoMoCo in the '80's and '90's was under-engineered in the cooling system department as far as I'm concerned.
If I can find a set of GT40 heads cheap enough, Ill add them and a GT40 intake manifold as well. Whether I keep or sell it I plan on doing these things either way.