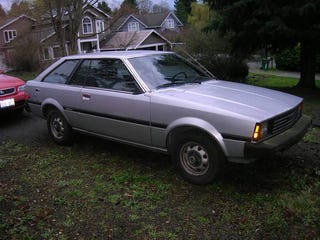 And I'm very pleased, wouldn't change a thing. But then something like this pops up and the urge to add is bigly.

This is my favorite Corolla body style (Te72 wagon notwithstanding), and it's rarer than common decency. It's not an SR5 which hurts, and it's a 3-speed auto, but where else are you ever going to find one in this good of shape? NOWHERE. That's where.
Unsurprisingly, my wife was less than supportive. I attempted to bargain ("Hey, we can use the tax return on this thing you always wanted, and I'll use what's left for —"). Nope. Sure I may have promised that the Lexus would end the revolving door of beaters. And yes, I don't need it, would barely drive it, and have no room for it. Oh and we need every cent we can squeeze, what with trying to buy a house and whatnot...
But Dammit it all gimme gimme gimme!