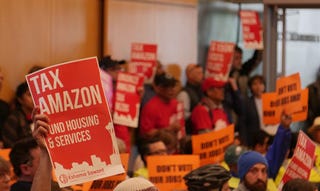 And in order to avoid a few million in taxes Amazon, Starbucks, and Microsoft were willing to spend millions* to avoid paying millions in taxes. This country is fucking disgusting.
I don't live in Washington, or Seattle, but as a crazy Southern California bred liberal I am for taxing those that can afford it. Millions in taxes to contribute to your company's home town seems like the right thing to do. But as it goes in America, these companies are willing to spend as much as they can in order to not have that money to to the gubmit. It's fucking ridiculous.
The trio of companies spent roughly $300,000 to get a measure on the ballot to repeal the head tax, and promised to spend much more.
In case of Kinja I liked a Racked article discussing the Seattle head tax that Amazon fought to hard to prevent. Find it at TheVerge.com or Racked.com.