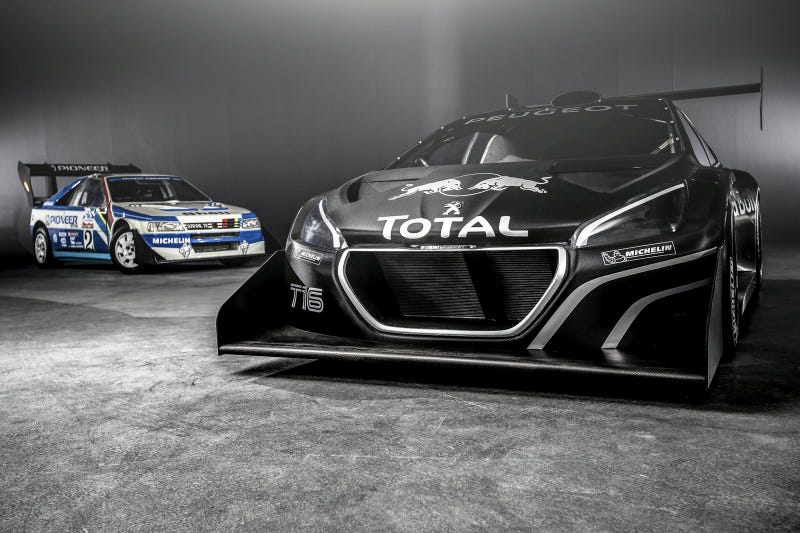 What happens when you put 875 horsepower 3.2-liter biturbocharged V6 in a 1929 pound carbon fiber car? This.
This car is ready to tackle 12 miles of strenuous steep roads for the 2013 Pikes Peak International Hill Climb–and it's got everything it needs to win. The car is equipped with special Michelin tires, a ridiculously light body frame, a power to weight ratio of 1:1 [holy mackerel], a six-speed sequential gearbox, four-wheel drive and so much more details to help make the car destroy its opponents. The engine is mounted near the mid-rear for better center of gravity. All of these improvements to the car make it go to 149 mph in ~ 7 seconds. That's almost how long the 2012 Fiat Abart takes to get to 60 mph! I can't even think of the pride that the Peugeot Sport Division engineers must have after accomplishing such a thing.
It will be driven by world WRC champion Sébastien Loeb.
Here are the full specs:
ENGINE
Type V6 bi-turbo
Cubic capacity 3.2 litres
Number of valves: 24
Position: Mid-rear
Number of cylinders: V6 (60°)
Maximum power: 875hp
Torque: 90mkg
Maximum revs: 7,800rpm
Top speed: 240kph
0-100kph: 1.8s
0-200kph: 4.8
s0-240kph: 7.0s
TRANSMISSION
Type: Four-wheel drive
Gearbox: Longitudinally-mounted six-speed sequential gearbox with steering wheel-mounted paddle-shift
CHASSIS
Frame: Tubular steel
Bodywork: Carbon Fiber
SUSPENSION / BRAKES / STEERING
Suspension: Double wishbones and pushrod/rocker arm actuation at all four corners
Springs: Torsion bars
Dampers: Pressurized dampers
Anti-roll bars: Front and rear
Steering: Hydraulic
Brakes: Hydraulic double circuit brake system with one-piece light alloy callipers
Brake discs: Vented carbon discs front and rear
Diameter (front): 380mmDiameter (rear): 355mm
Wheels: Bespoke 18 by 13 magnesium alloy wheels from F1 technologyTyres Michelin (31/71x18)
DIMENSIONS
Length: 4,500mm
Width: 2,000mm
Height: 1,300mm
Front overhang: 1,690mmRear overhang 1,690mm
Wheelbase: 2,695mmWing 2,000mm (based on the rear wing of the Peugeot 908)
Fuel tank: 40 litres
Weight: 875kg