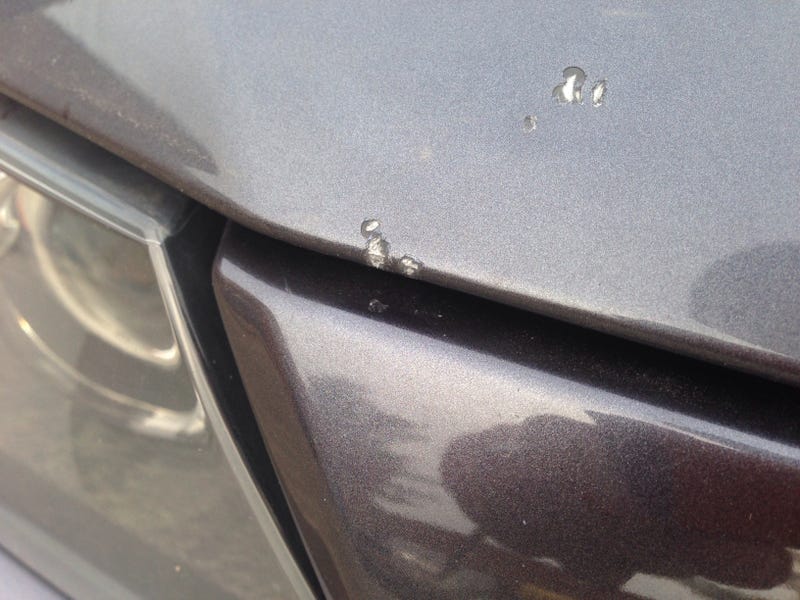 After school I took my son swimming, and after we left I saw some boys sitting up high on a wall next to the highway. And as I'm wondering how they got there and what they are doing there, I see one of them wind up and throw a handful of rocks.
Hit me square on the hood, resulting in the beauty above and an additional 6-8 chips/dimples in my hood. Thank God nothing worse happened, especially since I had my 5 year-old son in the car. If he wouldn't have been there, I would have chased them down. Coincidentally, that's what another guy did, who got hit in his work truck, and thanks to whom the cops caught the little shits. One 8, and one 11.
I got the mother's info from the cop and she's handling everything really well, so at least I know I'm getting my hood fixed up.
The bodyshop where I took my car for an estimate ($778, by the way) had Testarossa and a 2002 in the shop, both for a complete resto, which gave me confidence that they are a good shop. The owner seemed like a cool dude.
He is selling the 2002, by the way, if someone's interested. Edelbrock carb, straight pipe custom exhaust... Owner said it has around 195 or so HP. Sounds like a fun little car!