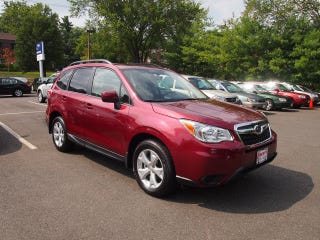 So after months of research my wife and I finally went out test driving this past weekend and decided on a 2015 Subaru Forester Touring (with the 2.5L).
Back story: after all the research and previous test drives we've done, we'd pretty much decided on the Mazda CX-5 but visited the Subaru dealership out of mere formality. I expected the Forester and the XV to be good cars, but the CX-5 would still win. Boy was I ever wrong.
Our experience at the Subaru dealer was excellent! Not only did the thoroughly explain all pricing and features (for once a salesman actually knew more than me) but they also took us on a "dynamic test drive". It sounded like a bit of a gimmick but my wife and I graciously agreed to have the salesman take the vehicle out first. It ended up being the most comprehensive test drive I've ever been on! He took us down the highway and got off at an exit with a long sweeping off ramp which had a "recommend" speed of 50km/h (which id normally take at ~70km/h in my Cruze), he then informed us he's going to take the long wet bend at 100km/h! My wife and if glanced at each other and braced for impact; but the Subaru took it like a champ. No protest from the tires, little body roll, heck i didnt even reach for the "holy-shit bar". He went on to show us how the AWD system works and how the car brakes diferrently with its lower center of gravity (due to the boxer engine).
So we're pretty impressed at this point, the dynamic test drive was done in the XV, which was nice but pretty down on power. Then we headed out by ourselves in the Forester. The ride, handling and interior fit & finish really put everything else in the class to shame. It's bazaar, from all the photos/videos ive seen online it looks like the interior on the CX-5 would trump the Forester, but no. There was soft touch everything. We also noticed that the Forester was quite a bit quiter on the highway than the XV. The visibility in the Forester rocked and the sunroof is enormous.
The biggester issue I thought I might have with the Subies was the CVT. I must say, they're actually really decent, very little drone and they don't suck the fun out of the vehicle like the other CVTs I've driven.
So we settled on the Forester, we got it in red and are now waiting 3 weeks before it gets here on the boat from Japan.