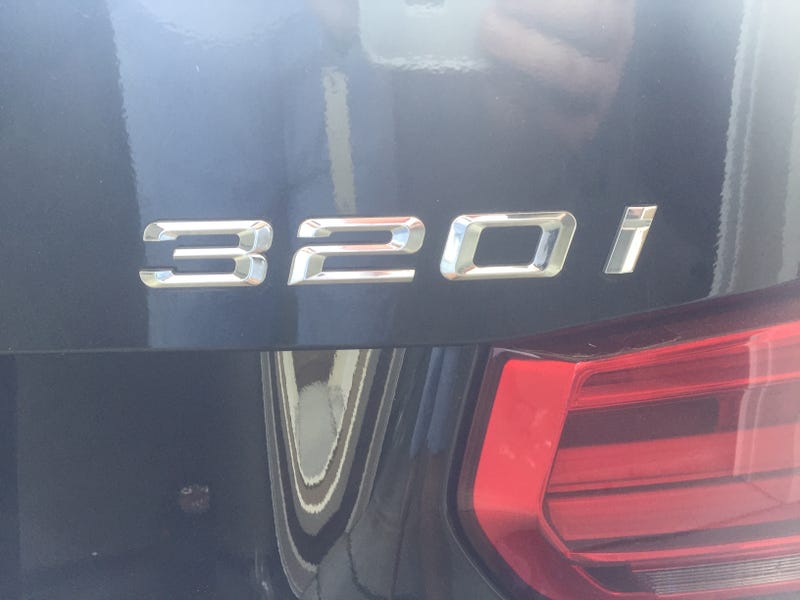 So, I wanted to start a service history for me 328i. It had just crossed 45k miles so I assumed it needed a differential fluid service and a transmission fluid service like the M3. I also wanted to get an oil change since I had already put 5k miles on it and I had no idea when the last time the oil was changed. Since I didn't know of a reputable 3rd party shop near me I took it to BMW. Apparently the gear box oil is good until 100k and is like an $1100 job; they said it was a differnt animal than the M3, which I had just had serviced. Anyways, I still got them to change the oil in both my engine and my differential. I asked for a loaner and since they had a couple they gave me one. I'm going to call the shop I took my M3 to and see how much it costs for them to change the gearbox oil in the 3 and have it done;.
This loaner turned out to be a 2017 320i. Sadly, unlike the last time I had a 320i loaner, this one was an auto. That's right, BMW of Corpus Christi had a manual loaner.
My first impression of the car was the steering. Among other things, one of the reasons I got another E9X to DD was because of the steering. The steering in the E9X simply feels incredible. Normally I hate electric power steering; however, I started driving this and didn't hate the steering. The good news is that I feel like it's getting better. No it isn't as good as the steering in my E92 and it comes no where close to the M3, but it's miles above the other F30s I've driven. I think they're headed in a good direction with the steering, or I'm just less biased now. If the steering had been this good in some of the earlier F30s I would have seriously considered one. Give me a 328i/330i with a stick and I'd be happier than a pig in shit.
The 320i is powered by an N20B20 which BMW says produces 181 hp. I think they're lying. It felt fast than my 328i which has a 49 hp advantage on it. Last time I had a 320i loaner I thought it felt really slow, then maybe that was because that time I got out of the M3 and into the 320i. This time I got out of my 328i and into the 320i. It felt like it had more than enough power; honestly, at no point did I think that it was under powered. Could it use more power? Of course it could, but need and want are not the same thing.
I really don't understand all the hate that iDrive gets. I find it really easy to use. Normally I have a cable in my car and connect my car via that. Since the USB/AUX port is still broken in the 3, I don't keep cables with me. This meant I had to use bluetooth to play music. It was super easy to connect, my only complaint is that you don't get the usability of the cable. If you connect with a cable you can browse through all your music, using bluetooth you can't. I do like how all the new BMWs come with a screen, yes nav is extra but I really like being able to play music via iDrive. It does lack a sync button for the HVAC control, but since my DD doesn't have one either I've grown accustom.
Other than that, the interior feels a lot more plasticky than either of my E9Xs. For the most part, they're all soft touch plastics, most surfaces just feel synthetic. Maybe I'm just spoiled by my cars, but it felt like the interior was designed to last at most 6 years/100,000 miles. I'm not sure how I felt about the steering wheel itself, I think I prefer the wheels in my E9Xs. Then again, both my E9Xs have M wheels.
This car lacked a sport pack and had the base seats, which I found no fault with. They were comfortable and while the sensatec doesn't feel as good as the sensatec in my E92, it did feel better than other BMW loaners I've been in.
This car had me questioning my decision to completely overlook the F30. I could see myself in one of these in the future. Am I happy with my E92? Yes, but I feel like maybe I should have looked at one of these. Speaking of your E92, how has it been? 
In the two months I've had it, I've put just under 6k miles on it. It's been very good to me, apart from a non-functioning USB/AUX port. At times I think I should have gotten something like a Civic Si, but then I realize I would be pining for another manual BMW to DD. It is a pretty fantastic car. The engine could use more power and they got more power out of this engine with some parts but then it would have been too close to a 335i.
I really want to throw some money at this car; only problem is I lack the resources to do that. Plus the M3 needs an exhaust first.
Through 18 fill ups, I've averaged 26.2 MPG with a standard deviation of 1.55. This isn't as good as I'd hoped it'd be, but then 2 MPG less than I was hoping for isn't terrible. The standard deviation isn't that bad either, considering there are some outliers in there. It gets averages more than 10 MPG better than the M3, so I really can't complain. Then again, the M3 has turned into my weekend car, so I'm not worried about fuel economy at all.
The wipers that came with the car were terrible. I assumed that the dealer had throw some cheap third party wipers on it, so I bought new wipers for it. When I changed the wipers I found out they were OEM, but the date code read 2010. Since the wipers on my M3 had last4ed for 3 years,  I got some more OEM wipers. While they were $40, it took like 2 minutes to change and they not longer make so much noise when clearing my windshield.

So far the 3 has cost me just under 2k to drive for 2 months.
Could I have bought a cheaper DD? Sure. Would I have been as happy as I am with it? Probably not. It really is a pretty great car, with the added benefit of making my appreciate my M3 so much more.