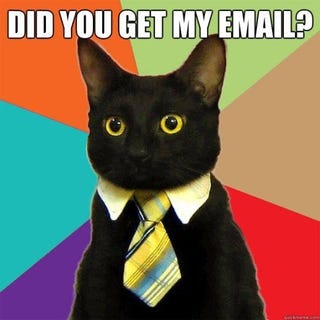 One of the weirdest aspects of the business of podcasting is the ungodly amount of emails I find myself writing.

Which is a bit ironic because as you may know, I do podcasting cause I don't like to write. The reading isn't so bad, because I enjoy it. I go through emails, press websites, press books, on and on. Reading plotting thinking. Thank god I have some people who have given me good suggestions/leads for guest from Opposite Lock.
So what does a typical day consist of? Well I get up read though a head of emails, a lot of press sites send you news and product specs, so comb though those looking for anything interesting. Then I read a whole lot of emails that say stuff like "thanks but no thanks" or "yeah come back when your download stats are just a bit higher". I return emails that I need to, thanking everyone for their time, have a nice day, hope to work with you in the future, etc.
Every now and again, I get a great email that reads "sure Ike, this sounds like fun" or "Fuck it lets do it!". I get pumped, send details on times and dates and what ever else I need to.
Then I go to work on OppoMeet I send info to vendors and wait. This is the most perplexing thing to me, I am giving you money, and exposure, you would think places would be a little better at getting back to you quickly with that information, but for whatever reason they don't seem to.
Then normally I comb through Twitter, it's such a great resource for me. I have a found a few guest just from tweeting "hey ya want to be on the show?".
I enjoy using Twitter to help promote the "brand" and help promote things from past guest on the show (Especially Steve's stuff, mostly cause he's awesome). The I start pouring over stats on the back end of the podcast site, oh did they like this? Maybe that thing wasn't working, did the people who listen though the browser listen though all the way? Where did they stop, and I go on and on with that stuff.
Then I read a lot more emails, tweets, browse thought YouTube, write more emails, tweets and try and come up with ideas for guest and articles, and all for a 45-60min long once a week show.
Oh lord if I knew my plan of being an automotive journalists who talks, and doesn't have to write, would involve so much writing... Well I still would have done it, but I may have taken a class or hired a ghost writer!
So for those of you thinking about this podcasting thing, remember you have to be able to talk and type!
Ike is host of the Untitled Car Show ( untitledcarshow.podomatic.com ) he has owned 2 Dodge Challengers; a Volvo C30, a V70XC, a V70R, 740; and a Saturn Ion . He is a new father and loves driving and autocrossing. He can jerry rig with the best of them, and he wrote his bio in third person. He also has 2 dogs, 2 cats and is a crazy person some say!
Email the author untitledcarshow@gmail.com