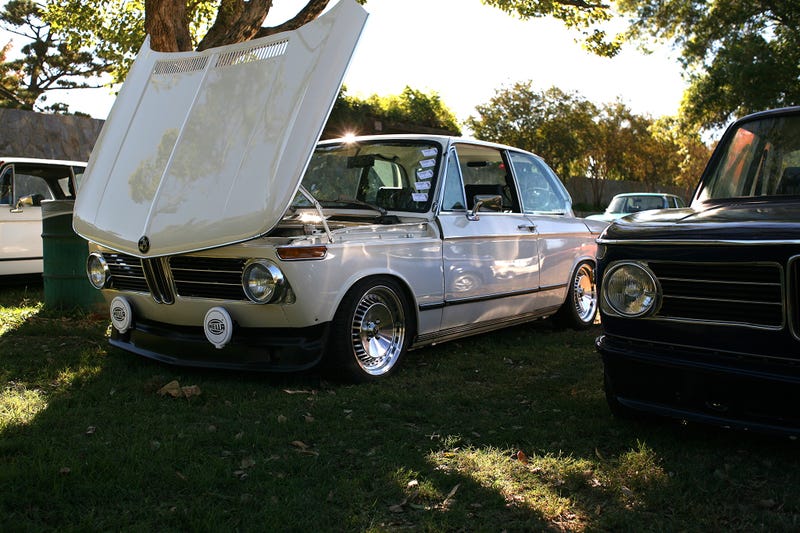 Tired of all the E30bros? Want to see the fun, weird, obscure BMWs? Come to Woodley Park for the once-a-year SoCal Vintage BMW show
This 2002 was an extraordinary example, especially with those wheels
As with any show like this, the parking lot was just as good as the actual show. I've been told that this Cobra is real. The color combo is sure stunning.
I love me a good E39 wagon, especially with a V8!
The Alpina B7 is such a classy cruiser. This example was very well cared for.
This is quite an interesting color. I like it! The $10,000 carbon ceramic brakes are pretty cool too.
I wish I had better pictures of the rest of this car. Sadly, it was just in the livery, not the engine.
This is redundant. This is redundant.
The TI has quite a lot of potential as a chassis. One with an S54 would be a fun little canyon cruiser.
This Alfa was extraordinary. I couldn't find a single flaw on it. The color suits it well.
TBSS! Parked like an asshole though.
This Alpina B9 E28 was extraordinary in every way. No idea if it's real or not, but it had an Alpina cluster, wheel, interior, and shift knob.
It's nice to see a W113 being well used. Their value isn't quite to the point that it's ridiculous to daily drive one.
A nice E34 M5 was next to it. Speaking of cars with reasonable values...
E92 M3 on Fiske (?) wheels. The stance is perfect.
Ah, the undesirable Ferrari.
Speaking of stunning E28s, this is one of my favorite cars ever. Totally flawless, full Euro front and rear end, and BBS wheels. Hands down the nicest E28 I've ever seen.
This Porsche was nicely done with tons of Ruf-style accessories.
Duck tail!
Dakar Yellow is just a great color.
I've been told this E36 has an LS swap. It seems to be a very thorough track/canyon build.
The perk of owning a Mini: Park wherever the hell you want.
Now to the actual show...lining the entrance were a set of E30 M3s.
This white example had an S54 swap.
Next to that was a real E36 M3 lightweight!!!
Odd color...
My favorite car in the actual show was this Alpina E36 wagon. It was a Japanese import.
Somehow no one noticed the fact that it was a wagon and just passed it by.
There were quite a few E31s, especially V12s.
This CSI was the true star of the E31 show.
I love how the hood looks open with the headlight cutouts.
Another flapp'ed E30 M3. I think it's a good, but overplayed look at this point.
M2? M2. It was a 2002 with an E30 M3 S14 shoved in there.
On the odd BMW note, we have a 1600 sedan.
I'm not an E30 man, but this example was just too nice
These tail lights are awesome too.
Daytona Violet!!!
Excuse me sir, you lost your front end....
The true, TRUE star was this stunning M1. The exterior was in amazing condition, but the engine bay showed it was well used.
"Is that a 2JZ?"
No kind sir, no it is not.
Um.....
Um............at least it's well done.
The M pinstriping is the best touch on this E24.
Stock crew out in small, small numbers
Lets see if anyone can name this BMW.
What an amazing design.
This car was badged as a "538iS," but had an M5 VIN and engine.
Interesting use of E34 wheels. These are designed to improve airflow to cool the brakes.
So many Bavarias!
I'm 90% sure I helped push start this one a few months back
Just a normal E34 M5, right?
WRONG! BAM, special wagon.
Too many 2002s.
The best Bavaria there was this one with an E39 M5 engine.
I'm pretty sure an Opponaut had one of these. The weird turbo E32 sedan! This one had a 5 speed, of course.
Last but not least, the E9 Batmobile.